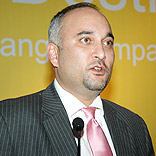 The list of problems of small and medium enterprises (SMEs) in India is long one with technology employment and upgradation topping the list. The Franchise India Media caught up with Abhijeet Ranade, Associate Director, Technology Advisory Services at Pricewaterhousecoopers, to discuss the issue at length.
Shambhavi Anand (SA): How do you view the SME space in terms of adoption of information technology?
Abhijeet Ranade (AR): The progress of the SMEs in terms of technology adoption is pretty slow. Even if considering the basics, they have a long way to go. In fact, most of them haven't started properly using technology, yet.
(SA): What is the reason behind this?
(AR): Cultural issues are the main reasons behind it. Most of the small businesses in India are either owned by families or proprietors. This results in lack of transparency and thereby hesitation in giving funds on part of lenders. 
The second reason behind the slower rate of technology adoption by the SMEs is that they are still stuck in basic transactions and business development and have yet to develop a strategic mindset, which involves a plan and growth by design.

(SA): What are the services offered by PwC to SMEs in terms of IT?
(AR): From start-ups to big businesses, PwC offers its services to all. We offer a variety of services, starting from developing strategy for business growth to market share expansion, cost optimization and implementation of solutions like ERP. We work with SME's in all industry sectors.
 
(SA): How does an enterprise with limited resources adopt technology for the day-to-day management of its business?
(AR): By planning with a perspective of 5-7 years. It should assess its size, operations and needs both with the present and future perspective and then decide which technology to buy. After they have decided on the technology they should then implement as per a roadmap to get the quick gains, to start with and move towards the strategic elements over time.
 
(SA): How far has the downturn affected SMEs into IT in India and how have they coped with it?
(AR): They have been highly impacted by the downturn. IT spend is a discretionary budget and is usually cut down in the times of economic recession. The bigger companies have the advantage of scale of operations and geography but SMEs have to work within the constraints.