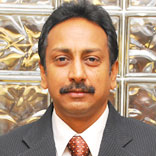 Today insurance has become an inevitable necessity besides being a valuable investment. Bajaj Allianz has been putting all its efforts to provide innovative and relevant insurance solutions to keep pace with the changing times. T A Ramalingam, Head, Underwriting, Bajaj Allianz tells us how insurance in supporting small businesses.
Bhuvnesh Talwar: What sorts of insurance products are specifically oriented towards SME's or would help Indian SME's?
T A Ramalingam: Bajaj Allianz is coming up with innovative commercial packages aimed at covering the interest of SMEs. The current policy products cover perils like fire, employee infidelity, burglary; workmen's compensation; and liability exposures.
BT: What is the share of corporate insurance policies in the Indian SME segment?
TR: Corporate insurance has seen a sharp rise within the SME sector with a rough estimate of about 25 per cent.
BT: Which insurance products are popular among the SMEs?
TR: Most popular insurances include Package Insurance (Assets) and Employee Benefit Insurance (Group Personal Accident and Medical claim).
BT: Which products are indispensable for SMEs?
TR: Assets insurance and medical claim insurance are essential.
BT: What are the major challenges before the industry in underwriting more and more SME schemes?
TR: The major challenges include dismal quality of information, fire protection techniques being used and low premiums. Another issue is that of reaching out to every business as they are large in number and widely spread across the country.
BT: How would your company help SME's in portfolio management and renewal tracking?
TR: We offer risk management and risk mitigation techniques.