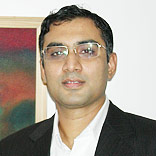 Finding a venture capitalist to fund your business idea may be a tough nut to crack. However if your idea has all the right elements to be turned into a high growth and low risk business, finding VC funding is not impossible altogether. Seed Fund is a prominent Venture Capital firm with a commitment to put together the right elements in a fund that could back true innovation in India. Anand Lunia, CFO, Seed Fund, shares with us the firm's style of working and also some advise for budding entrepreneurs.
Bhuvnesh Talwar (BT): What do you look for in a startup before deciding to invest?
Anand Lunia (AL): For any start up the basic components required are a great team comprising of people from diverse fields who can take care of different elements of the business. A great product, service, solution which should surely have a big market i.e. lots of demand, growing rapidly, not crowded. Good economics and business model, not very capital intensive and breaks even at a small scale also.
BT: Which business sectors are your preferred investments?
AL: We decided to stick close to businesses we know and sectors that can make a big difference, not just in the global market but in the Indian market too. So, our major interests are Education, Healthcare, IT products, Internet, Mobile VAS, Niche Retail, Ecommerce, and Financial Services.
BT: What is the range of investment you put in with startup companies?
AL: Its equity that we give, not credit. We invest between Rs 1 crore to Rs 6 crore initially, and then invest further in subsequent rounds of fund raising.
BT: VCs are known to get equity stake in companies they invest. Upto what percentage of stake do you take in the company. Please comment.
AL: The equity depends on the amount invested, current maturity of the company, team, intellectual property, exit possibilities, etc.
BT: What are the major challenges or risks in being an investor?
AL: The Company's products may not get ready, or may not be good. The market may be very small, may not like it, and then it may be very expensive to sell. The team may not perform well, may be tough to find other good senior management. Competition may come up, with more money to market itself. Regulatory issues and no buyer even if the company does well.
BT: What is your ratio of selection to applicants?
AL: We have got over 2000 applications, out of which we must have seriously looked at a few hundred plans. And we have selected around a dozen out of them to invest.
BT: What do you do when the startups turn out be unprofitable?
AL: We don't go for a knee-jerk reaction. We try to make them profitable by change strategy, reorient the team etc, and if that does not work, then try to exit.
BT: What percentage of startups in India gets funded through VCs?
AL: Miniscule. Less than 0.1%
BT: Apart from funding, what other services are offered by VCs to companies?
AL: VCs are not consultants or investment bankers. They work with the promoters of the companies that they invest in and here they work as a coach to the CEO, a guardian of the investment, strategic thinkers, financial gurus etc.
BT: Any tips or advise for budding entrepreneurs?
AL: Don't plan your business contingent to VC funding. Mould your plan such that it can start with a few lac of borrowed money. Then put all your energy in running the business. VC funding will follow.