Credit rating improves credibility
It is high time SMEs realized the importance of credit rating to boost their chances of getting credit and to establish their financial strength before customers, suppliers and banks. Taslima Khan spoke to Ramraj Pai, Director, SME ratings, CRISIL on CRIS
Tags: SME Ratings
BY Taslima Khan | May 27, 2010 | COMMENTS ( 2 ) |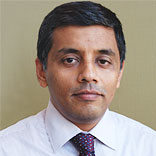 Ramraj Pai
Director, SME ratings CRISIL
It is high time SMEs realized the importance of credit rating to boost their chances of getting credit and to establish their financial strength before customers, suppliers and banks. Taslima Khan spoke to Ramraj Pai, Director, SME ratings, CRISIL on CRISIL's specialized approach to credit rating for SMEs.
Taslima Khan (TK): What are the different criteria used as the basis for rating SMEs?
Ramraj Pai (RP): SMEs are rated on three parameters, financial strength, business strength and management capability. Financial strength refers to the company's profitability, number of loans in the portfolio etc. Business strength connotes the number of customers the company is having and for how long they have been with the company, market share, raw material sources and also feedback from suppliers. Management strength would denote, the capability of the management to steer the company well through good times and tough times.
(TK): What kind of companies can get rated? Is it applicable only for those organisations which have been formed as companies?
(RP): All types of business enterprises, including public and private limited companies, cooperative societies, partnership firms, and sole proprietorships, are eligible for CRISIL SME Ratings.
(TK): What are the grades assigned to rated companies?
(RP): Companies are assigned rating grades based on two dimensions: Performance capability and financial strength. They are rated on a scale of 1-5 for performance and on a scale of A-C on the basis of financial strength. So the rating grades are like 1A, 1B, 1C,…then 2A, 2B 2C and so on. A company rated as 5C would fair poorest on both the performance and financial parameters.
(TK): In reality what are the real benefits of rating in terms of getting loans or getting credit at a cheaper rate?
(RP): SMEs can use the credit ratings for many purposes apart from getting easier loans. The biggest benefit is that the company comes to know of its strengths and weaknesses, so as to work upon them. Secondly you can also leverage the ratings to establish your credibility to suppliers, customers or banks. Put it up on the website or use it for marketing the business.
(TK): How long does it take for you to complete the rating procedure after the SME has applied for rating?
(RP): Normally it may take about 2-3 weeks to complete the rating process.
(TK): What is the validity period of the rating provided?
(RP): The validity of the rating provided lasts for 1 year after which the company should renew its rating.
(TK): Are some SMEs reluctant to get rated for fear of being rated low, as that would adversely affect their business or tarnish their image?
(RP): Yes, quite a few SMEs are reluctant to get rated for fear of getting rated low. We publish the ratings on the website. However any company that has been rated low can write back to us, requesting us not to publish the rating. Once we receive the request, we abstain from publishing the information. We also get requests from companies who are rated high, not to reveal their ratings to others. Such requests are also adhered to by us.
(TK): How much is the rating fee charged? How much is the subsidy granted by the government towards rating of SMEs?
(RP): The government provides a rating subsidy of 75% on the total rating fee for small enterprises. This is not applicable for medium enterprises. So after subsidization, the rating fee for small businesses can vary from, Rs.7000 to Rs.13000. For medium businesses the fee amounts to Rs.50000 to Rs.80000.
(TK): How do you ensure that ratings are credible and accurate?
(RP): The rating procedure each company goes through meets a number of quality control checks. We have a quality control committee which checks that the rating process is transparent and accurate.
Please add your comment
Bala
August 17, 2010 at 1:51 am
SME CRISIL Rating
Reply |
vaijinath appa walkunde
August 09, 2010 at 10:46 pm
I have interest please give all information
Reply |