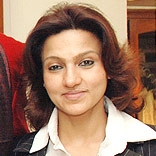 Being born in a fashion family, for Arti Mehra her affinity towards garments came naturally. Creating the brand-Study by Janak has been a long road. Arti Mehra, the leading lady at Study by Janak tells us about the ups and downs and about her balance between work and family.
Taslima Khan (TK):  Tell us about your business and how you started it?  
Arti Mehra (AM): The brand 'Study by Janak' was launched in 1986 by my husband Manoj Mehra. It began in a small store at Karol bagh. In 1992 I joined him in his endeavor, becoming an integral part of the business. Today SBJ has multi outlets across NCR, Delhi and Punjab. Our grandfather was the trendsetter for Men's garment business in our family. Business was always the passion of our lives from the beginning and that constantly motivates us to put in our best to create the finest in fashion.
TK: What motivated you to be an entrepreneur and choose the industry you are in?
AM: Being born in a fashion family, I was always driven to show my credibility in the fashion world. I have a passion for fashion and my creative ability helped me to choose this industry. Knowing the ins and outs of the fashion industry, it was an obvious choice for me to do something that proved my mettle.
TK: What is your typical day like?
AM: An early riser, I devote two hours at the gym to keep my body fit. Then I start my daily chore which involves me in the daily designing, production, dispatching, and marketing - as per the needs the concerned stores. I meet with my department heads to keep a check on the daily requirements of each store. In fashion, one constantly deals with specific demands and needs of a client. Creating a piece of attire after understanding these needs and making the client look and feel good is the highest point of being a designer.
TK: What kind of family support were you able to garner to achieve your aspirations? Whom you would attribute your success to?
AM: Living in a joint family has been a big boon as my children were always protected and taken care of by the elders, enabling me to give my hundred percent to the family business. I thank my husband who has always supported me and given me a free hand in every decision related to family or business. Being in the same field we understood each others' pressures and have always had the same passion for work.
TK: How do you strive to achieve a work/life balance?
AM: Being in the same line helps immensely as the topic and discussions are mutual.
Balance is achieved thanks to the fitness regime in the morning which acts as a stress buster provides me the stamina to keep going for long hours in a day. Having a good like minded friends circle helps to switch off after a hard day's work.
TK: What has been the highest point in your career so far?
AM: Having a state of art dream factory unit built keeping in mind all our future growth plans and production needs. But nothing surpasses the feeling of triumph when we bought the south extension property and opened our premium flagship outlet.
TK: What has been the biggest hurdle you have came across in your business so far? How did you overcome these obstacles?
AM: In any kind of growth there have to be obstacles. Shifting from the smaller unit to the dream factory was a big challenge and really affected operations both at the back end and at the retail front due to the long distance between Delhi and the new factory in Gurgaon. Retaining of our staff and handling production and client orders simultaneously was a nightmare. We spent several sleepless nights into hiring a new team and training them to our pace and precision at work.
TK: What difficulties did you face as a women entrepreneur?
AM: Being a woman in a man's world I faced a common problem of not being taken seriously. However the moment I made it very clear that I meant business, the attitude changed. Today the same staff respects me for who I am and follow all my instructions willingly.
TK: What is your advice for aspiring women entrepreneur?
AM: Giving your 100% to work while you are at your work. But importantly give priority to your family by assigning them quality time and assuring them you are there for them and giving them the emotional security they require. Keeping your family happy can be of immense support and can make one excel in work as well as lend it complete concentration.
TK: How do you see the future of the industry you are in and what are your future strategies?
AM: Finally fashion is being taken seriously as an industry and it's becoming more and more organized each day.
We fulfill the aspirations of wearing fashionable garments for all occasions - be it a business meeting to a casual day out to clubbing, attending any occasion in their own or someone else's lives. We take pride in our customized designer wear for special as well as casual occasions.
After northern India we plan to now open our outlet in Dubai as well as London.