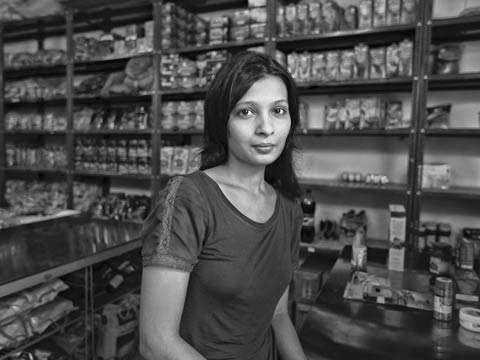 Rashi Choudhary
Co-Founder and COO, LocalBanya.com
The entrepreneurial experience for the trio of LocalBanya has been a rewarding one. Rashi Choudhary, Karan Mehrotra and Amit Naik started Mumbai's first online supermarket store in May 2012, with a single-minded focus of delivering the widest selection of products, of the highest quality at the customer's doorstep. Starting with few product categories, LocalBanya now has more than 3,000 products on its shelves.
In a tete-a-tete with Entrepreneur India, Rashi Choudhary, Co-Founder and COO, LocalBanya.com unravels her entrepreneurial journey, mistakes made, challenges faced, and key lessons learnt in the process of building LocalBanya:
Give us a brief on your background until LocalBanya happened.
I have an MBA from SP Jain Institute of Management Studies in Retail and Services Management. I started my career at Ernst & Young as a Management Trainee in the advisory department. Later, I moved to Rashi Peripherals, where I was responsible for their marketing and branding along with distribution of computer parts and accessories. My next position was with Raymonds Retail, which laid the foundation for me in retail. At Raymonds, I worked on Procurement, Data and Inventory Management.
What is the specific role you play at LocalBanya?
I'm the co-founder and COO at LocalBanya, but my role at LocalBanya has evolved over the past 2 years. When the idea initially took shape, I spearheaded the company for 6 months, while Amit Naik (CTO of LocalBanya) completed his education, and Karan Mehrotra (MD of LocalBanya) managed his other business. Initially, I was responsible for setting up the platform by looking into the web design, developing the product portfolio, establishing relationships with suppliers, setting-up the supply chain, social media marketing and many other things like handling other marketing activities.
My current role at the company deals with anything that has a direct impact on the customer's experience. I lead operations, logistics, manage customer service, data management, sourcing and pricing of products, quality check, web content etc. Every process starting from the customer placing an order till the time of delivery (and after sales service) falls under my purview.
How did your background better equip you for this role?
This is the kind of business where there is a gamut of data that we need to collect and work through; product, customer and delivery related. Ensuring that this process is smooth, accurate and effective is an important part of my role here. My prior experience equipped me with the skills to be able to manage, link and analyse data effectively. For example – Designing the ERP (Enterprise Resource Planning) from scratch because the variables we dealt with as a new business model differed considerably from what had been done before.
Why LocalBanya?
I've always wanted to be an entrepreneur. I come from a family of entrepreneurs, and so it's the mindset I've grown up with. I was doing my research, looking for a product to sell or a venture in the online space when Karan approached me with the concept for LocalBanya. It just made sense to me.
I've always had a soft spot for retail. With soaring infrastructure costs and acceptance of online shopping, e-tailing definitely seemed promising. Online grocery shopping in India came with its fair share of challenges and we needed to not only reengineer a business but we needed to change customer buying habits. This presented an exciting challenge, where we were not only building a company, but an industry. Grocery shopping in itself has a high customer return rate, high customer loyalty and faces a comparatively low impact during times of recession. Putting all these things together, the idea of LocalBanya involved being in the digital space, in the retail world and in an industry that had a huge potential of growth. It seemed perfect.
(From left-to-right: Karan Mehrotra, Rashi Choudhary and Amit Naik)
What is your relationship with food?
I've never been great in the kitchen and have always preferred eating over cooking! My list of favourite foods is a by-product of my travels. I love exotic salads, thai food and vegetables like asaparagus and pakchoi cooked in soups and stir fries. This is part of the reason that we, as a company, tryto bring exotic and imported products to the table. So while a part of us is focused on the day to day requirements of our customers, we also want to be able to offer the best of world foods locally.
What drives you today?
I'm somewhat of a perfectionist, so figuring out the kinks in our system and streamlining our processes is what drives me even today. My aim right now is to create an efficient and self-sustainable working model that can be replicated across cities. I am constantly driven by the idea of improving and adding value to the customer experience.
Give us one mantra you live by.
That's a tough one. But I'd have to say: "Don't dwell in the past. Learn from your mistakes. Be hungry for the future and charge forward with confidence."
How did the name LocalBanya come about?
I think that was the easiest part of the whole process. When Karan came up with the idea of an online grocery store, a friend jokingly said to him 'LocalBanya' and it just stuck! As soon as I heard the name, I could just picture the big-fat-moustached-man we all now know and love. The name was the first one tossed up and there was no reason not to use it. It was quirky and easy to relate to.
Describe for us what LocalBanya is to you.
LocalBanya is our baby, which needs our nurturing, time and attention. You need to think about it all day and even stay up for it all night sometimes. I'm extremely proud of what we have achieved here and want it to succeed.
What according to you are the challenges of being woman entrepreneur?
The main challenge that I have faced as a woman entrepreneur, has been in my interactions and working relationships with some of the staff. We work with people from all stratas of society. Sometimes, it's a challenge to get people to accept a woman in a position of authority and in these cases, getting the work done becomes slightly difficult.
A major challenge that a lot of women face is due to the family and societal obligations in this country. I am thankful that I am blessed with an extremely supportive family. I can honestly say that any other challenges that I have faced being an entrepreneur, personal or professional have occurred irrespective of me being a woman. For the most part, I haven't thought about this as an issue or felt any difference at all, being the woman in the trio.
What are your thoughts on the current status of women empowerment and entrepreneurship in India?
Women tend to underestimate their own potential. A lot of the empowerment that is spoken about can happen when we as women change the way we think. While there is a long way to go for a lot of women and classes of society, things are changing for the better. Awareness is building and the society is also offering support. I have seen change in the culture around me. I personally don't encourage my colleagues to give me preferential treatment on grounds of my gender, when it comes to getting a task done, but chivalry is always appreciated.
Your message or words of encouragement to aspiring women entrepreneurs
Do what you feel is right for you. Society and trends have shifted. There are still challenges out there, but you won't know till you don't try. Failure is a part of life, but it's important to learn from it and move on. You have a lot to offer, so don't hold yourself back and don't let anyone else do that either.