Flavours & Spices: Konkan Spices and Curry Makers
While tickling your taste buds with its various spice formulations, the brand has in a short time competes with other brands on kitchen shelves.
Tags: food business
BY Franchise India | September 17, 2010 | COMMENTS ( 2 ) |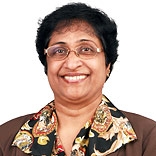 Balbina Carmen Pinto
Founder, KSC
While tickling your taste buds with its various spice formulations, the brand has in a short time competes with other brands on kitchen shelves.
Franchise India (FI): How did you get into this business?
Balbina Carmen Pinto (BCP): I got married in 1986 and moved to my husband's residence armed with a few recipe books, thinking I would work wonders with them. Unfortunately, experimentation with food often went haywire as I used to begin enthusiastically but ended up disappointed and exhausted. Soon I was termed "ZERO at Cooking" by the household. My husband however told me not to despair.
I took this piece of advice rather seriously and quit my job with the Airlines. I invented some masalas which turned food into great food and my impressed friends asked me to start this venture
2. (FI): What are your product offerings? What is the USP of your products?
(BCP): My blends contain quality spices and have no fillers, preservatives or artificial colours. You can prepare meals at an amazingly quick pace. You use less quantity of spice too as the blend is scientifically developed further for the food services Industry where the products are supplied in bulk. The spice formulations are customized to their taste and requirements. This feature is unique.
3. (FI): How did fund your business?
(BCP): Initially the funding was done by my husband. As the demand for my products and work grew I went in for bank funding. Currently, the total investment in business includes our capital and bank loan.
4. (FI): How difficult was it getting people to work for you?
(BCP): I interviewed several candidates but none had hands on experience in this field. The job was very demanding and so the salary expectations were extremely high too. So I convinced my husband to quit his job and plunge into this organizational setup and steer the boat. He in turn got one of his colleagues recruited as the General Manager and KSC was in business. The team was gradually built and there's been no looking back.
5. (FI): What was the biggest challenge?
(BCP): The biggest challenge was convincing the chef's of the food industry and the end users how different our products and creations were. I held live demos and spent time at exhibitions displaying our range of products and told the world how I could create specialties for them.
We had to explain to them to now compare the "Yield Factor" – Potency of the product. This was really painstaking for us but effective. Today most chefs in the industry know about this and we have set a precedent.
6. (FI): What are your branding and marketing strategies?
(BCP): We are planning to target the retail segment on a pan India level besides broad basing our exports and targeting corporate customers in domestic markets. Our marketing strategy will focus on reaching our products to every house hold in India.
7. (FI): What are your growth plans?
(BCP): We are committed to grow by minimum 100% every year and cross the sales of Rs.500 lacs by 2012-13.
Please add your comment
Andi
September 11, 2011 at 10:56 am
With all these silly wbetseis, such a great page keeps my internet hope alive.
Reply |
Elvira D'souza
September 20, 2010 at 11:29 pm
Way to go Balbina! The write-up is very impressive and inspiring.
Reply |