Education Beyond Classrooms
The entrepreneurial venture, recognised in India and across the globe, reinvigorates education in three million school-going children in simple yet creative ways. Tabassum Modi, Founder and Executive Director, EduMedia, walks the SMEntrepreneur through th
Tags: Tabassum Modi, EduMedia, Krayon , Decoding Kids
BY saniya seth | May 28, 2012 | COMMENTS ( 1 ) |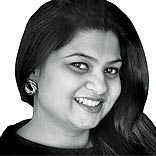 What made you enter the education sector? Please tell us about your initial journey.
I studied in one of Bangalore's best schools, but I thought, we were provided limited exposure to the real world. Education is sadly only restricted to books and exams. For me, education goes beyond the walls of the classroom. There is so much to learn from the world around us. I think it is important to change the perception of education in the country — the prime reason behind my professional decision. Through my work, I am trying to make learning a fun-filled and dynamic process that brings happiness to children everywhere. Moreover, the education sector is the most promising sector in this country, which is open to countless changes and progressions.
What were the challenges you faced and how did you overcome them?
The uniqueness of the business model was a challenge in itself. So it was difficult to make people understand the concept. In the education sector, where the average age of professionals is on the higher side, being a young entrepreneur did come with its set of disadvantages. Over time and through persistent efforts, our various projects achieved success and the industry appreciated our contribution.
Tell us more about EduMedia and its business model.
EduMedia is a pioneer in the use of progressive media ventures to enable the holistic growth of children. With 15 years experience of working with kids, EduMedia currently comprises four major verticals – Krayon, Activity, Mentor and School Cinema. Each vertical offers a unique product or service that aims at empowering children and educators through events, training, publishing and films. Through its verticals, EduMedia reaches out to over three million children in 30,000 schools annually. Each vertical caters to a different audience and market – Krayon organises school contact programmes; School Cinema makes films on life skills and values for school children; Activity organises life-skills workshops for marginalised kids; and Mentor is a magazine aimed at school principals. EduMedia's latest initiative, Decoding Kids, is a knowledge-sharing platform to enhance the understanding of kids amongst people who want to engage with them.
What has been your biggest achievement so far?
The greatest achievement has been the satisfaction that I derive from my work and being able to turn my passion into a profession. The ability to make a difference in the lives of children, add value to education and make their learning experiences more joyful; that is what makes my work worthwhile. The rewards and recognitions we get motivate me to constantly challenge myself and scale greater heights.
EduMedia's children's films have won National Film Awards and have been featured in over 25 International Film Festivals. Our specialised, award-winning events have positioned us as leaders in the kids edutainment business.
How do you deal with stiff competition? What is the USP of EduMedia?
From the time we started School Cinema till we established Mentor, there had been no competition for the product because the country had never witnessed a phenomenon like EduMedia. Yes, today there are several organisations in our field, but what sets us apart is the medium we employ at EduMedia; our USP is the belief that we think different. At EduMedia, we focus only on children. We do not think about the business perspective or treat them as a target audience; we believe in bringing a positive change to their lives.
What are your marketing strategies? How far are they successful?
Being a boot-strapped entrepreneurial venture, we do not have very elaborate marketing budgets. Fortunately our work speaks for itself; we have been recognised for our work in every sphere that we have worked in. Krayon has received many awards for its events, and it is nice to see our films receive felicitations –both nationally and internationally. We received two National Awards this year – the most coveted trophy to possess in films.
What are your expansion plans? How is Decoding Kids being taken forward as a platform?
EduMedia is a phenomenon and a lot more remains to be achieved. Right now, we are most excited about Decoding Kids. Decoding Kids aims to unravel the puzzle called 'kids'! We are also organising Decoding Kids Conclave 2013 – a first-of-its-kind initiative in India that will be an annual knowledge-sharing platform to enhance our understanding of kids.
Please add your comment
M S RACHCHA
August 08, 2013 at 3:12 pm
i have come up with nursary school pl.let me know the ideas so that that i can improve n get good results
Reply |