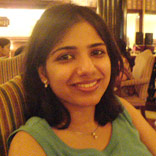 A NIFT graduate carved out a career out of crafting personalised products for children. Tushina Goyal, the founder of Tushina, within no time, became an entrepreneur by pursuing something she loved to do--Experiments.
Harmit Singh (HS): How did Tushina come into being? What is the business model?
Tushina Goyal (TG): After my graduation I worked as a merchandiser in Orient clothing and Triburg Consultant Pvt. Ltd. for brands like Calvin Klein, Ralph Lauren and others. Post my marriage and daughter's birth, I designed a painting, for her, which was highly appreciated by all. Subsequently, the orders for birthday party return gifts started pouring in, this is when I took my ability seriously and thought of initiating my business venture. This is how Tushina came into being. It is an attempt to create customised hand-crafted products for kids, teenagers and adults such as name plates, wall clocks, photo frames, pen stands, flower vases, and painting. I exhibit and sell these at various locations like Pritampura and Gurgaon in Delhi, NCR respectively. The products are available online too. Marketing is purely by word of mouth. 
(HS):  Why did you choose to get into a business of crafting goods for children?
(TG): There was never a plan of getting into this kind of business; it just happened.
My friends and relatives not just liked my creations that I made as a hobby but also placed orders to procure the same. That triggered the entrepreneur in me and I entered the field with Tushina.
(HS): What was your previous occupation?
(TG):  I was initially into home linen business. As mentioned earlier, I have worked as a merchandiser. 
(HS): Did you think you were cut out to be an entrepreneur?
(TG): I always wanted to work under someone and never thought that one day I would be working for myself. Though my bosses and colleagues used to say that I was capable enough to have a business of my own but I never took it seriously (laughs).
(HS): How many people did you start with and with what kind of investment?
(TG): I don't have any store. I sell the personalised crafts through the Internet. I started alone and now have a couple of people working under me.
(HS): How did you initially fund your business?
(TG): I initially funded my business with my husband's money. There is not much money involved in this business so money was never a concern for me.
(HS):  How do you differentiate yourself from others in the industry?
(TG): I always plan to achieve an absolute perfection level. I don't settle for less. That is how I think I have an edge over the others.
(HS): What challenges did you face when you started?
(TG): Getting people as creative and on the similar lines as me was the initial problem.
(HS): What are your future plans?
(TG): The market is completely open and the prices of my items are very reasonable. I have just noticed a huge demand for my goods amongst the teenagers. So, I am now planning to cater to the youth and the adult market.