Selling is just a Link Away
The story of four pals - Aditya Sengupta, Akash Gehani, Harshad Sharma and Sampad Swain - gone beyond simple friendship to strike a deal. The deal was to make connect between buyer and seller easy. With such an idea, Instamojo finally took wing on April
Tags: Instamojo, Aditya Sengupta, Akash Gehani, Harshad Sharma, Sampad Swain, startup, cofounder
BY Anushri Mondal | April 17, 2013 | COMMENTS ( 3 ) |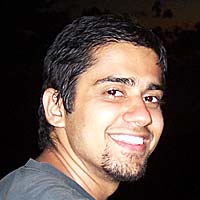 Akash Gehani
Co-Founder, Instamojo
The story of four pals – Aditya Sengupta, Akash Gehani, Harshad Sharma and Sampad Swain – gone beyond simple friendship just to strike a deal. The deal was to make connect between buyer and seller easy. With such an idea, Instamojo finally took wing on April 2012. Akash Gehani, one of the core founding members spoke to SMEntrepreneur to give a sneak peek on the journey so far.
Instamojo is a recent venture. Apart from buying and selling of digital goods, is there any other interesting perspective to this initiative?
We want to make the selling of digital goods extremely simple for everyone. You upload a link of your product and the customers download it from there. With that, the aim is to let the content creators focus on the things they do best which is creating content. Apart from this, we have seen a few very interesting use cases of our platform where it has been used for raising funds for NGO. There is a lot of other stuff in pipeline, which you will see soon.
Who have invested in Instamojo?
Rajan Anandan, MD, Google India, and Sunil Kalra, an independent angel investor, invested in us at a very nascent stage. After going live with our platform in beta phase, we attracted investment from Silicon Valley based accelerator 500 Startups, and Indian VC firm Blume Ventures.
Does the price of the product in your platform fixed by its owner/creator? Do you give any consultation about fixing a price for the product or allow the owner's discretion to prevail?
The price is decided solely by the owner/creator. We never want to interfere in that as they are the best judge to know the value of their creations. Of course, there is a monitoring process that takes place before we upload the product.
Are there any popular names that are using this platform?
We have famous comic artists like Vijayendra Mohanty, Vivek Goel and Manta Ray Comics selling their creations. Then Deepak Shenoy is a famous trader and writer who have tried Instamojo. Moreover, there are a lot of software companies selling their softwares, website templates, designs through us.
What exactly do you handle at Instamojo? How the four of you got together?
I had worked with Sampad few years back at his earlier start-up Wanamo.
Sampad and Harshad were in touch since the last four-five years over different ideas to work together, and Aditya was a common friend. We can say that social media played an important role in bringing our team together.
Would you like to move beyond the digital world?
Our platform is simple enough that it can be used for any kind of goods or services. This is what we saw when we let one of our users raise funds for the NGO BSPCA. However, currently we are solely focusing on digital market since it is a big market where we still have to reach out to a lot of people.
Your venture differs from other similar ventures in the West with the concept of promoting donations. Could you explain further as to what model you follow in initiating such a concept?
Donation is something that we do not target specifically. It happened to us by chance as we were referred to a friend looking to raise money. We liked the cause and realised we could help them out without changing anything in our system. Going forward, we are open to more such cases but have to be careful since the trust of our users is extremely important, and we have to be sure that the funds raised actually reach the concerned NGO.
As your initial venture Urbanpotion did not turn out well, how did you manage to garner strength for launching Instamojo?
Urbanpotion not working out was a setback, especially considering all our savings went into it. But the good thing was that we realised it early and also identified that the problem was not with the team but with the idea as it was not ready. However, it did bring the team closer and made us work even harder to build Instamojo.
Do you have any plans of shifting your base to the US?
For the time being, our focus is on India. But yes, we might shift to the US as it gives better platform to deal with content creation and also provides large customer base.
Please add your comment
Matt Mayevsky
September 08, 2013 at 11:20 pm
I\'m looking for media partnership and expert partnership for the book: \"The Clouds Economy\", which aim is to promote economic - information knowledge and practical multi-presentation of the Cloud Computing solutions. By the way, I will add that EuroCloud Poland (of which I am a member), is a Strategic Partner of the project. EuroCloud Poland is part of the EuroCloud Europe (29 European countries).
Reply |
Samuel
August 07, 2013 at 4:11 am
Little to do with region i guess. see for exapmle; few years back Ramoji Rao gave new life to Marathi news with E.TV. Marathi; same with ABP, as a 76% partner in STAR MAJHA they already proved it since last 5 years. ABP MAJHA\'s STAFF/ employees are the SAME; they are from different parts of Maharashtra and knows essence of soil very well; so rest assure. Thanks for feedback.
Reply |
Dias Cherian
July 16, 2013 at 4:19 pm
great site to visit
Reply |