Personalise Your Email
In the technology world where almost every possible business idea had already been tried out. Anshul Goyal, CEO of Guava Softs Pvt. Ltd, thought in an innovative way and conceptualised Email.biz, a personalised email service.
Tags: Anshul Goyal, Guava Softs, Personalised Email, Email.biz
BY Rita G. Chauhan | July 25, 2013 | COMMENTS ( 0 ) |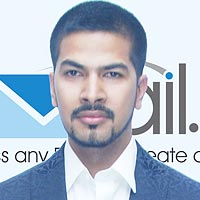 Anshul Goyal
CEO, Guava Softs Pvt. Ltd
How is Email.biz different from other mail service providers?
Email.biz is a new concept in email services field. There are no other providers offering the features provided by us. While creating email accounts with other email providers, users do not have the option of choosing their email domain. At Email.biz, users can choose the domain they like and create an email address on it.
Moreover, we give 50MB attachments, Enhanced security with EV SSL certificate, the option to login to any of your mail accounts with Universal Login, 20GB Mailbox etc.
What is the USP of your product?
We are a premium and personalised email provider, and our main focus is to provide the highest quality of email services for people.
What led you to start Email.biz?
The idea of creating Email.biz conceptualised in my mind couple of years back when I faced difficulty in creating an email ID with my name because of existing user by same name. I had to add symbols and numbers to my name to create my email address. Although I managed to create an email address, it led me to think over the idea of creating a personalised email space, and I started to work upon that.
You recently launched the business, what is the market response for this service? Is there acceptance for your concept?
Email.biz has got a very positive response within the one month of its launch. Around 90,000 users have registered created email addresses on www.email.biz. There was a lot of demand for personalised and premium email, and www.email.biz fits the bill.
Where do you see the market for mail services in the coming five years?
The Internet is going to spread all across globe in the coming time. The need to communicate efficiently and fast is going to take the centre stage.
Under such scenario, email will answer all communication needs. Premium and personalised email is the need of the hour in helping people retain their identity, especially in the growing online population.
How big is the Email.biz team?
There are around 60 professionals in the core Email.biz team. A huge amount of time, effort and energy has been invested in giving email.biz a practical outlook.

Please tell us your future plans.
We, at Email.biz plan to keep innovating technology in India, and expanding into diverse locations. With an eye at tapping into the global market, we also plan to open offshore offices and spread awareness about our products and their benefits.