"Langoor Gave Me Indian Connection"
Ruchir Punjabi, who started Langoor in 2009, is a young and energetic entrepreneur. Currently, he is based in Sydney, Australia, a known name among Australia's young professionals.
Tags: Ruchir Punjabi, Langoor, Langoor conceptualisation, Creative technologists, Langoor story
BY Ritu G Chauhan | October 28, 2013 | COMMENTS ( 0 ) |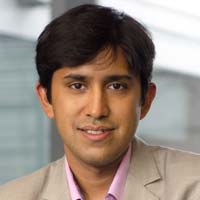 Ruchir Punjabi
Founder, Langoor
In an interaction with SMEntrepreneur, he shares about his entrepreneurial journey and future business plans.
When did you start Langoor? Why did you choose "Langoor" a fascinating name?
Langoor was started in August 2009. When I was thinking about business names, I discussed options with my housemate who was from Norway. The only Hindi word he knew was 'Langoor'. He insisted me to name the business Langoor. Initially, I laughed it off – but about a month in, the only name that stuck with me was Langoor.
I really liked the fact that the name represented "crazy" one needs to be crazy to change the world. That notion stayed with me. Moreover at the time, I had no plans to open an office in India and Langoor gave me an Indian connection.
How did the business idea for Langoor conceptualised? How much was the initial capital?
Langoor was more of a hobby becoming a business than a planned strategy. I have been freelancing in the digital world since I was 15 years old. When I completed my studies, I continued getting work. I was thinking about jobs at that time, but the same day I got asked to an interview by a major consulting organisation. I won two projects, one of which would pay my office rent for a year.
I sought some seed funding from my family. But largely the business has been bootstrapped otherwise.
Since the conceptualisation of Langoor, how has been your entrepreneurial journey? What were the initial challenges that you faced and how did you overcome those?
It is amazing how business challenges scale with the business. Initially the problems I had were around growing the business, while continuing to invest in products. As a small business, I really struggled in prioritisation of what made money for the business v/s building what was important to have an impact in the business.
However once we opened our India office, the problems of scaling really started hitting us. People in India wanted to work with us given our experience in Australia, and our Australian clients wanted us to help them through our Indian team. We scaled from about 10 employees to 75 in about two years. That sort of scaling across multiple locations is quite difficult and comes with its own challenges – mainly around culture and people management.
How creative technologists are redefining the world of conventional advertising and marketing?
As per my colleague, Chief Creative Officer Kishore, the traditional world of advertising and marketing has been commoditised. Creative technologists, according to him, are people who create simple and yet power-packed engagement ideas with the help of technology. They help brands walk the walk as much as they talk the talk. And I agree with him.
Please brief us about your products langoor.net, langoor.mobi and langoor.biz.
We've normally created products where it made sense. Customers have a requirement – if we realise we can actually target the requirement at a larger scale, we invest energy into it.
langoor.mobi is one such product where mobile websites for all businesses are crucial moving ahead. It helps you create a mobile site in a matter of minutes. We have invested heavily in the artificial intelligence of the engine that makes it really good.
langoor.biz is a made-for-India product, especially targeting retail shop owners with multiple stores. It helps you manage inventory, customers and billing across multiple location and also syncs online with your website. Whereas langoor.net is unfortunately no longer promoted as a product. We created it to make it easier for people to create websites. However, we found that it required more investment and there were already products that were starting to do a good job at this. So we decided to discontinue it.
What are current opportunities for entrepreneurs in the digital market space? Where do you see the web services market in five years?
The definition of web is about to change. The move to mobile is only the beginning. We are currently working on two web-based TV projects. Microwaves, thermostats, sensors, are all on the cards. The Internet is already connecting everything and in five years what you and I call the Internet will be very different.
Recently, Langoor and the Brood merged. How will this JV work?
This is a true merger in the sense that a large part of the transaction happened in a share swap. The Brood has exceptional and experience people right from the top including Venu, Girisha and Kishore. They are taking over the new entity – Langoor as CEO, COO and CCO respectively. I am personally stepping back to focus on strategy as Chair of the Board and will support the business ongoing where it needs me.
Langoor already had a strong digital and technology base and some of the old Langoor's team is in the leadership of the new organisation. The Brood offers that expertise on the brand and creative aspects of an agency. So we are looking to operate as one business, one culture.
What are your business expansion plans?
We are finding that Indian businesses view the agency space as a play of multiple mediums –print, TV, digital – all in one place. So we will continue to offer the full spectrum in India.
However, overseas we have carved out a niche in our digital offerings – mainly in tech systems and digital marketing. We are currently looking at new markets; however, I am not in a position to discuss which ones yet.
What advice would you love to give the creative entrepreneurs? What should they focus on as a start up?
An early entrepreneur needs to focus on two things defining what you offer and validating that against what your audience needs. The earlier you can find this alignment – the easier it will be to get yourself off the ground.