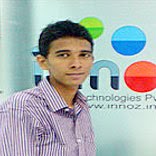 At an age when kids are still under the shadow of parents, Deepak Ravindran had already found his own place under the sun. Creating milestones in mobile and web designing industries with passion, clear focus and determination, he soon graduated from an idea maker to a top rung business technologist. In a chat with us, he shares the fable of his exceptional journey.
Seema Seth(SS): Tell us about your company?
Deepak Ravindran(DR): Innoz, established on 15th September, 2008, is working on rich mobile and web applications. A DFJ-CISCO honoured venture jointly incubated at Asia's Top Business School (IIM-Ahmedabad) & Asia's Finest I.T. Park (Technopark, Trivandrum)developed SMSGYAN - an innovative and cost effective text-messaging interface that literally delivers knowledge bytes to the user's fingertips and TRANZ, that enables easy transfer of photos & videos with your phonebook friends over GPRS/3G networks. With a strength of 20+ employees, we are present in New Delhi, Trivandrum and USA.

SS: Where did you find the seed capital for your company? Any plans to raise money?
DR: The starting investment was from the founders who equally invested a sum of 1 lakh INR. Innoz received seed investments from iAccelerator Program-IIM-A(CIIE) & Technopark,Trivandrum.

Innoz also raised further rounds of funding from few NRI's who also supported to launch a marketing office in USA. Innoz will be looking for a venture capital funding on the coming financial year.

SS: What is the scope of your organization, technology?
DR: Our flagship product SMSGYAN is built for the community. If there's one thing a user will never mind doing with a phone, it is SMS. And to compliment SMSGYAN, we built CellNXT, a leading SMS/Voice gateway service provider, delivering to over 200 corporates and 550 SME's all around India.

We developed TRANZ enabling easy transfer of photos & videos with your phonebook friends over GPRS/3G networks.

We use  Open Source technologies to build scalable platforms allowing us to provide apt solutions of very high quality standards at industry best pricing. We love and use PHP, MySQL and Perl.

SS: What are the differentiators? Explain the business model.
DR: We have multiple products & revenue channels. Operator revenue share still dominate the revenue projections. We also make money via reselling bulk SMS & voice solutions to corporates. We are also one of the pioneers in developing rich mobile applications for companies on latest technologies and platforms including iPhone, Android & Java.

SS: How do you plan to scale up the business?
DR: Within two years of existence, we have managed to evolve into a leading VAS company in India providing multiple revenue sources to operators via our innovative products such as SMSGYAN,TRANZ & CellNXT.

The key success lies in the direct associatively that we achieved with the telecos and the confidence they are betting on us by launching the products & services across their userbase.

With telecom operators and handset vendors predicting their future success on data-enabled services, we are soon about to get an expressway that will fulfill our present and future need for serving mobile users. The aim is a billion dollar company in five years.

SS: What has been the biggest challenge so far? How did you overcome it?
DR: Being one of the first student start ups in India, it was quite a challenge for the team to manage both studies and work in the beginning. Moreover, shifting gears between studies and work wasn't easy in the beginning, but our principal, department head and teachers helped us a lot. We have been lucky to be associated with Technopark, Kerala which has provided us the best working environment and guidance in all possible ways. Our college has given us space to work and is helping us to grow more.

SS: Tell us about your recognitions.
DR:
NASSCOM rated us in Top 8 Emerging Product Companies of 2010.
Rated under Top 10 Mobile Application Companies in India by IAMAI.
We won Red Herring's top 100 Asia award, a prestigious list honouring the most promising private technology ventures from the Asia business region.
Finalist for Red Herring's top 100 Global award, a prestigious list honouring the most promising private technology ventures from the Asia business region.
 Innoz is one among the 16 companies to participate in the finals of DFJ-CISCO Global Business Plan Competition and the youngest to receive one on one mentoring from Indian Angel Network.
Innoz recently received special recognition while at mBillionth Award South Asia 2010 and has been  invited for the World Summit Award MOBILE, Abudhabi.
SS: Any advice to the readers who would like to set foot in similar business?
DR: Dream big and do whatever it takes to realize your dreams' is what motivates the Innoz team and so will the others.