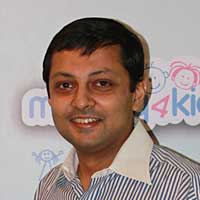 In an interaction with SMEntrepreneur, Vishal Gupta, Co-Founder and MD, mycity4kids.com, talks about how his business idea hooks up other entrepreneurs and offers them prospects to grow.
How the idea of mycity4kids was conceptualised?
When I was working with Aviva, I saw the power of this space. It was the strategic intent of the company to dominate the child plans space under the 'Education is Insurance' brand idea and by doing a bunch of stuff. We saw the contribution of child plans growing from less than a percentage point to 15% in a 12-15 month period. Apart from this, I have two kids aged nine and five, and therefore was privy to a lot of conversations that parents have around how difficult it is to find places to go and things to do for or with their kids.
When did you start mycity4kids? Who are the co-founders?
We started our operations in October, 2010 at Delhi NCR. The other two co-founders are Prashant Sinha and Asif Mohamed. Prashant worked with me at Aviva for more than four years while Asif was introduced through a common friend. We met in April 2010 and discovered that we have same passion and values.
Brief us about kid-focused business industry in India. What is the size of the market and scalability?
The Rs 15,000-crore kids' services market includes after-school activities (tuitions hobbies, and sports), daycare and playschools, recreation and entertainment, health and wellness. There are 1.2 million targetable households in the top 16 cities (50% of total) who spend averagely Rs 950 per month in every household (other than school fees). McKinsey reports increase in household spend on 'education and recreation' from Rs 4100 to Rs 8,400 in 10 years. Moreover, there is also a realisation among parents across India that academic excellence is not the ultimate yardstick for success in life. There is a trend towards holistic learning which has fuelled demand for services like hobby classes and creative learning.
What are the current trends and opportunities for entrepreneurs to explore?
We believe the kids' space in India provides tremendous opportunities for entrepreneurs as it is still a highly underserved market. More specifically, the kids' entertainment and after-school skill-development activities are big growth opportunities.
What can you predict about the future success of your company? What are your business expansion plans?
On a broader level, we will reach break-even by March 2014. By the end of 2014, I see us being present in the top-16 cities of India and 1 international city.
What advice would you love to give the creative entrepreneurs?
My single input to them would be to think like a parent and tailor their service or product accordingly. A good thumb-rule to test this is to figure out if your spouse or child would be happy to use the service or product in the way it is currently delivered. The answer to that will determine the success of the venture.
How you differentiate it from online shopping portals in the kids' space?
We're focused on aggregating all kids-related 'services' and are the only site of its kind vis-à-vis multiple e-tailer's selling children's 'products'. We provide an online sales and marketing platform to SME's in the children's space. With more than 50,000 service providers listed across six cities and with approximately 2,500 businesses using our paid services, basically we are providing a marketplace of choice for parents and businesses alike.  We have more than 35% repeat visitors.
What is your planning for generating funding?
We raised our first round of VC funding in June, 2012 from Yournest Angel Fund. Our funding plans are based on reaching break-even by March'14. Until then, we are well funded through our current investors, YourNest.  
What were the initial challenges that you have been faced? How you overpowered them?
In terms of the initial challenges, the key ones to my mind were:
Trying to create a company for the future whilst trying to stay afloat in the present due to financial constraints.
The difficulty in convincing businesses that we were here to stay and the initial lead-time to build customer traction on our website.