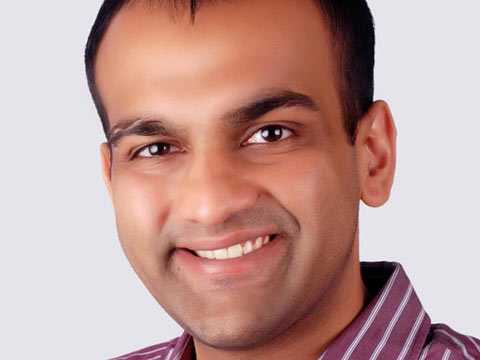 Haptik was launched on 31st March, 2014. The application is available on both iOS and Android platforms free of cost. The beauty of this application is that it allows users to send messages/queries related to products and services to in-house experts and the experts solve customers' queries in less than four minutes.

In an interaction with EntrepreneurIndia.com, Aakrit Vaish, CEO, Haptik discusses about the unique selling proposition of the app and how this application solve the queries, related to products and services, of the customers/users:

What are the key features of Haptik and how does it work?

Haptik is a smartphone app that enables users to chat with customer support experts for help related to products and services. The app is available on both the iOS & Android platforms free of cost with more than 200 companies. From over 25 full time experts (available through the day), Haptik solves close to 300,000 queries a month. Haptik promises a solution to query in less than 4 minutes.

How did you build a successful customer base and what is the number of users do you have at present?

The growth has been purely organic, depending majorly on the Word of Mouth publicity. Google Play handpicked us as one of the best utility apps in the along with likes of Dropbox, Gmail, and others. Haptik is the only Indian app to be featured in this category. Currently we are also ranked 78 in the utility category in the play store. With active Twitter presence in resolving queries and great PR, we have come a long way in 6 months. Our primary focus across the company currently is to get as many users as possible to use the app.

How does your business model works?

Companies plug into Haptik to directly handle chats and engage with their users and we charge a basic pay-as-you-go platform fee for the same.

How much revenue have you generated in the last fiscal year? What are your expectations for the next fiscal year?

We launched the app in April 2014 itself and don't expect to generate any revenue in the first fiscal year. Beyond that, we are looking to hit about $1 million in FY '15.

The mobile application industry seems to be flooded with plethora of app developers. What is your strategy to survive in this market?

Differentiation. There is no other app like ours anywhere in the world. The idea is to continue innovating and building product features that users love.

What are the opportunities and challenges in this industry?

The platform in itself is a huge opportunity, as there is no other app that provides such a service. Moreover, the customer service industry in India hasn't evolved yet completely. That's where we step in and simplify the process. When it comes to challenges, the biggest challenge is maximising user base and reaching out to lot more people and secondly, bringing larger companies on-board as this is going past the traditional system of customer support.

What is your marketing strategy for this year?

Haptik has got a very positive response so far from the market, and our users love the platform. We are very active on social media and besides press outlets love covering our solution. We will continue to build upon that, as well as engage in paid online, mobile, and offline advertising.