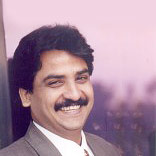 He realized the power of information technology way back in the 80s. Having started Corporate Professionals a legal and financial consulting firm, he had been thinking in terms of leveraging technology to simplify legal compliance laws and procedures by taking the business online. The idea of takeovercode struck him in 2002 and it was launched three years back in 2007 only to revolutionise the business of consulting. This powerful and unique business model won him the hottest startup award from Tata NEN. Taslima Khan gets him in conversation with FranchiseIndia Media.
Taslima Khan (TK): Please tell us something about Corporate Professionals, your parent company.
Pawan Kumar Vijay (PKV): Corporate Professionals is a leading consulting firm having in-depth expertise in providing legal and financial solutions and corporate advisory services for restructuring activities.
TK: What is takeover code all about?
PKV: Takeover code is all about rendering legal, financial and management solutions to corporates through information technology.
TK: You have been running a succes sful business, Corporate Professionals. What really prompted you to take it online?
PKV: Well I had been a firm believer in technology eversince I started Corporate Professionals. I had a strong realization that technology can do wonders since I was quite young. I used to read lot of IT magazines to quell my curiosity and develop a grasp over technology.
TK: When was takeovercode officially launched?
PKV: Though work on takeover code had begun way back in 2002, it was launched officially in 2007.
TK: So how does the business work?
PKV: Any Indian or foreign client can get himself registered on the site and find useful information on takeover laws and compliance procedures in India. One can also post his specific query online which can be answered by our panel of legal experts. 
TK: What are your biggest strengths that have contributed to making takeovercode a success?
PKV: Well my biggest strengths have been strong passion and unrelenting determination. Moreover for a legal consultancy going online, one requires strong domain knowledge coupled with expertise in technology as well. I have both.
TK: Have you monetized this online business model?
PKV: Not yet. Until now registration on the site is free. The reason why we are not charging users for registration is that our clients would take a little time to become comfortable with this mode of legal consultation. Many clients are now able to find their problems solved through the information provided by the website itself.  Once they are convinced of the value of consulting they are getting online, they would be very willing to pay for it as well.
Many customers are only coming to us for very specific advice after they have done the initial ground work from the information provided online.  
TK: What has been your biggest challenge as far as your online business model is concerned?
PKV: By far the biggest challenge has been to convince my team that the idea will work. I was very passionate about the idea of takeovercode.com but the challenge was to generate the same kind passion of in my team as well. After all it is the team which has to do the work. 
TK: How has going online helped your business?
PKV: Going online has tremendously helped our business in terms of increasing our visibility and reach. I must say that any takeover happening in India is now happening through takeovercode.com. Further it has contributed significantly to simply the complex takeover law in India.
TK: Takeover code takes care only of takeover laws. Are you planning to launch other portals as well?
PKV: Yes. We have already launched other websites such as llponline.in, delisting.in and another one startbizindia.in has been only recently launched.
TK: What is your message for aspiring entrepreneurs?
PKV: Entrepreneurship is a wonderful thing and I believe everyone should do business. However my suggestion is that one should select the business one is interested in and then check the feasibility of the idea. Another thing is that one can succeed in business only if you are passionate about the idea. Your passion will help you overcome all obstacles.