Customer, the king again!
His business promises to take customer care to the next level, making it simpler so as to enable companies to draw closer to their customers and also cut down the customer care costs substantially. Franchise India Media gets into conversation with Umakant
Tags: Umakant Soni, Vimagino, customer, affordable
BY Taslima Khan | January 27, 2010 | COMMENTS ( 0 ) |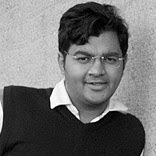 Umakant Soni
Founder, Vimagino
His business promises to take customer care to the next level, making it simpler so as to enable companies to draw closer to their customers and also cut down the customer care costs substantially. Franchise India Media gets into conversation with Umakant Soni to know more about Vimagino.
Taslima Khan (TK): Please tell us your business model?
Umakant Soni (US): We are bringing next generation of customer care to life at one tenth of the current cost levels. Our belief is by making customer care 10 times simpler, better and affordable, we would be bringing customer closer to companies and ultimately make them happy. The way we are making is by offering our platform "Help-online", which combines artificial intelligence based self-care and human agents driven care in a bundling pricing model of $1 dollar per interaction.
Customers can purchase "customer care credits" from us, which allows them to paste a widget into their website for those many credits. Once customers which are seeking customer care click on the widget, it opens up a chat window, on which artificial agents try to solve customer problems in an interactive manner. Based on the response, if customers are not getting satisfied, they are transferred to waiting customer care human agents. So companies no longer have to bother about buying customer care software, installing them on their websites and running their care processes.
TK: How was the journey from ideation to execution?
US: With the startups, the journey is the reward. Taking a rough idea, pitching, perfecting, and pitching that's a cycle that works best. We knew that front office automation is a big idea, simple because companies aren't value out of their customer care processes, and they are spending close to 84 billion dollars on it every year. Only problem is that there must be some tough issues in that problems otherwise people would have solved it decades ago. So thinking big, but taking baby steps was key. We first started working on helping Wipro automate their internal help-desk, and when we got 75% happy employees, we knew that we are onto something big. We just kept evolving it.
TK: What is your startup team like? How difficult it was getting a team to work upon your business idea?
US: Our Co-founder Gaurav Vaish is my old friend from IIT Kanpur where we helped kick start the business club. He is the smartest guy I have seen in terms of technology, so when I wanted to start something on my own, I told him that he would have be in it. People are the key to any organization and smart people are motivated more by dreams and a belief that they can shape their own destiny. It is easy to get a smart team if you have a big enough dream and can show the people the road map to bring dreams into reality. We have guys who have left Wipro, Yahoo and Google to join us to build something that they believe will be better than Wipro, Google or Yahoo.

TK: What key attribute of your business idea took you to the finals of Power of Ideas?
US: Our business idea has the capability of reaching a billion dollars in revenue in next 5 years. And more importantly we have the right team in terms of expertise, passion and creativity required to reach that milestone. Ideas are dime a dozen but its the execution that matters. Power of ideas was a good platform to be recognized, but you have to continue winning day after day in actual business to build a great business.
TK: How much of seed investment was required to startup?
US: Money is never a constraint to start a business, it is ideas that matter. Having said that, we did get some seed money from family to kick start and sustain, as product business takes time to take off. We refused lot of services project, as we wanted to stay focused on our product idea. Also we didn't want to raise money at the idea stage as with money comes responsibility, so too much money too soon ruins so many startups. We were very clear that once we are ready with product, platform and our business model, we would get in capital to help in execution. So now we are going to raise capital to help serve more customers and grow quickly.
TK: Are you supported by any mentoring organization or an incubator?
US: We decided not to go in for incubators as we thought it would take us away from our customers. Instead we thought being on our own would force us to validate our ideas with customers and build the eventual product fast, which actually happened. But we had fantastic advisors. One of the first things we did to flesh out our board of advisors. We reached out for my old mentors from Wipro, Our board of advisors consists of Mythily Ramesh (CEO, Next Wealth), Sudip Nandy (CEO, Aricent) and Jeff Smith (CEO Lunar Designs) and they brought in years of experience to bail us out of bad ideas very quickly. Because of them we were able to eliminate lot of potential obstacles quickly.
TK: What was your prior occupation and what prompted you to become an entrepreneur?
US: I was at Wipro for 7 years, which I had joined straight out of IIT Kanpur. I was heading tech strategy for BPO platform for back office automation in Wipro BPO, before I quit. But seeds of entrepreneurship were sown long back, when I was in IIT Kanpur, we build a business plan for producing a pollution reducing helmet. But it was 2001 and a time when everyone was funding a dotcom idea. Our idea didn't have many takers despite being recommended by Narayanan Murthy (then CEO of infosys) and since I didn't have any capital of my own, we had to shelve the idea. I was advised by mentors to join Wipro as it is a great organization to learn about building a business. Wipro's core policy of empowering people to do what they want to do, enabled me to start three intra company ventures within Wipro. Believe me, I learnt lot of things, which I do owe to Wipro.
TK: What target have you set up for your business for this new year?
US: We are looking at reaching USD 2 million in run rate by the end of this year and we want to multiply by 10 every year after that.