Building technical InCights
In conversation with Varun Chandra, Co-founder and CEO InCights Mobile Solution Pvt. Ltd, we delve into his entrepreneurial journey and the roadblocks that came in his way while following his dream venture. InCights mobile solution was formed following
Tags: Telecom
BY Archana Pareek | December 24, 2010 | COMMENTS ( 0 ) |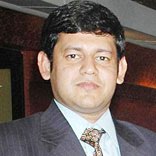 Varun Chandra
CEO InCights Mobile Solution Pvt. Ltd,
In conversation with Varun Chandra, Co-founder and CEO InCights Mobile Solution Pvt. Ltd, we delve into his entrepreneurial journey and the roadblocks that came in his way while following his dream venture.

InCights mobile solution was formed following the instinctive need of the consumers to have their own multimedia application for their social networks. The framework designed by InCights is called Multimedia Interactivity for Customer Engagements (MICE) which allows any user to create mobile applications with a similar ease with which they create their blogs.

Quick facts:
* Age of company: 8 Months
* No. of employees:18
* No. of offices and locations: 5
* Turnover: 50 Lakhs
* Startup cost: 3.2 Crores

AP: Tell us something about your creation first?
VC: The first application created at InCights is aimed for tracing and tracking assets and manpower, trackbook.com launched by InCights enables users to track speed, location, temperature and fuel for all moving assets. The application can also be used for geofencing purposes. The application can also be used by parents to monitor the movement of their kids and for enterprises to monitor their sales force. The other apps that we are launching in the near future would be in areas of Health and Financial Services.

AP: What prompted you to become an entrepreneur?
VC: I believe being an entrepreneur was part of my destiny. I had been encouraged by my parents and started working as a freelancer for a media house and supported them in production of advertisements during my college days. Later, when I started working at a senior level at one of the top notch IT companies in India, I felt confined as big firms are like big elephants not willing to experiment much. But it was here that I met Mr. Sreenivas, who was head of product development with a vast experience of 23 years and virtually has worked across all the continents and also the top 5 global operators. The biggest turn around in the history of InCights has been his decision to mentor and join as CTO.

The second turn around happened when I could convenience my old friend Samar Singh who was working as consultant to ACC, Uninor and few other companies to join InCights. His passion and rich experience helped us in being customer focused.

AP: Where did you get the money from?
VC: Till date Incights is being funded by the earning of its co-founders and prize money from B-Plan competitions. Recently, we have also received funds as debts from one of the banks.


AP: How has the company grown since then?
VC: Given that we have started only 6 months ago, we have been able to launch our first product successfully. Current we target enterprises for distribution channel, though we already have four booking for four upcoming franchises in the area of Nagpur, Mumbai, Pune and Bhopal. Also during this same year we received many academic accords from the industry:

* Best Business Plan for 2010 at e-summit
* Class of 2010: ET Power of Ideas
* Zonal Finalist for i2I: B-Plan competition by IIM Calcutta

AP: Do you plan to diversify and start operations to help build support systems for SMEs and target smaller sectors?
VC: Our vision is to have one active mobile app in every device that is being created at InCights. And therefore, our strategy is to foray into niche community based services. For example AIDS patients, farmers, transportation industry and many smaller sectors. To begin with, we want to work with these communities to create a niche for our services in each community. So we are not diversifying to cater to these groups, they very much form our core consumers and target market.

AP: What has been the biggest challenge you have faced so far while operating in the mobile technology segment in India?
VC: I think there are lots of opportunities in the telecom sector and therefore associated challenges. The biggest challenge is very few enterprises understand what mobility can do for them. Companies are not used to using mobility and despite the obvious benefits, it requires a change in the mindset or should I call it behavior towards mobility that will encourage people to go out and accept it.

AP: What has been the key marketing and brand building strategies for your business and how do you define your USP?
VC: Unlike other companies operating in this space, we do not go to our customers with standard offering, but work with our customers to understand how mobility can add value to our customers in terms of reducing transaction costs or increasing operational efficiencies. As far as our USP is considered, we hope our clients will speak for us.

AP: What's your take on the scope of small and medium entrepreneurs in the telecom sector?
VC: I think telecom innovation would be driven by innovative entrepreneurs which will not come from big industry house, but from small start-ups. Given the high gestation period associated with telecom start-ups and their need for mentorship, we also promote telecom startups by providing them access to some of our networks, best practices in the industry and business development. By this we are trying to make the industry rise in a holistic manner and make our small contribution to this revolution.

AP: What is your word of advice for today's entrepreneurs who would like to enter into this Industry? What investment is needed?
VC: I think today people plan a lot before being an entrepreneur. I feel you should just start from whatever you are, because whatever you plan today is going to go through a complete change in the next 6 months. Also if you have no plan, be rest assured for there is a secret of attraction, so somehow somewhere, you will attract like minded people.

Don't just set exit route as "strategic investments". Tell your investors and peers that what I am creating is for me and not for someone who has a lot of money in his kitty.