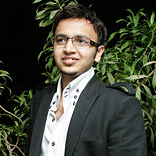 Mohit Sureka took his passion for games to a new height by establishing a company that develops games for mobiles and other platforms and is called Spiel Studios Pvt. Ltd.
Harmit Singh (HS): Tell our readers about Spiel Studios Pvt. Ltd?
Mohit Sureka (MS): Spiel Studios Pvt. Ltd is a global game development company. We develop games for all platforms like mobile, handheld, online, PC and console. We publish games on various devices like the iphone app store, blackberry, and many others.
HS:  What is your business model?
MS: Our business directly generates revenue by developing games and publishing them on various platforms like the iphone app store, blackberry and others. My company has also developed games for movies like Welcome and Race. We have also partnered with Sony to develop games for them.
HS:  Why did you choose to get into a business based on games?
MS: I have always been passionate about games. I used to play games in my childhood and love them the most. As I had a technical background, I had the privilege of taking my passion to the next level. Thus, I engineered a business based on games.
HS: Where were you previously engaged?
MS: I was previously engaged with my family business of Power electrical products.
HS: How did you initially fund your business?
MS: The initial funding for my business was done through the money that I earned in the business. My family also supported me, financially. 
HS:  How do you differentiate yourself from others in this industry?
MS:  I believe that the way we work is the distinguishing factor that places us far ahead of others. We have a young team for our young audience, who knows best what our audience prefers to play. We also have a clear picture of the audience and our market.
HS: What challenges did you face when you started Spiel Studios Pvt. Ltd.?
MS: We faced the usual challenges that a business faces like technical mishaps, investing in the wrong project, project delays but I knew before hand that patience is an integral part of the business and that is what made me learn from my mistakes.
HS: What are your future plans?
MS: Well, I would continue to develop more and more games. I want to promote India as a global hub for the digital games. So I want to develop better and bigger games.
HS: What advice would you like to give to entrepreneurs who want to enter similar businesses?
MS: I would like to advise my fellow entrepreneurs to be patient and to invest in the future. Pursue you business in a field you are passionate about; the way I did. You can only succeed if you are passionate about something.