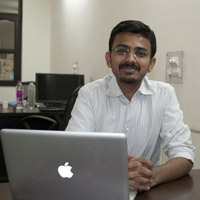 In a candid interaction with Entrepreneur India, Ankit Gupta, Founder & CEO, Webbzer shares his entrepreneurial journey, unique offerings for SMEs and his future growth plans:
Tell us in brief about Webbzer and how did you get the idea of creating it?
Webbzer is a quick solution to get your business online by building your website in under 10 minutes. By using a smart converter users can convert their facebook page to a responsive website.  Like many great ideas, the idea to start Webbzar was discovered by accident. While searching for businesses online in India and not able to find any results, though I knew they existed on yellow pages, I quickly discovered that for a business getting its own website is difficult, frustrating and very costly. This led to an eureka moment for me and Joe (Co-Founder) as we started working on a platform that empowered anyone to create their own website with no coding or design skills needed. Hance, Webbzer was born in 2012 with an aim to make it easier for businesses to create their web presence.
What makes Webbzer unique from dozens of existing online website building platforms in India which all focuses on SMEs as their primary customers?
Webbzer unique designs that allows busineeses to be carefree about how their website looks like and ensure it is delivering results. The designs are adapted to the latest design ideologies with the latest techbology. Moreover, our smart facebook business page converter allows businesses to convert their pages into fully responsive, SEO friendly websites with their content automatically updated on the website for them. Thus, all they have to do is click 'Publish' and go 'live' instantly. Their website is automatically updated with all the new content posted on their facebook pages.
Apart from helping small businesses get online presence, is there any other value addition by Webbzer?
Webbzer has strong corporate social responsibility (CSR) initiative where we encourage all non-profit organisations to have a strong web presence and deliver their message to millions of people online.
Tell us about your revenue model and what growth you have witnessed so far since January this year?
We work on a monthly subscription based model allowing businesses to have the cheapest and most affordable possible solution out there. With just Rs 299/month, they can run their websites on their own domains with reliable hosting. Since January, we've seen constant growth with satisfied customers happy with the concept of maintaining their own website.
What are your growth targets for 3-4 years? How are you planning to get maximum SMEs online through Webbzer?
Webbzer has optimistic targets for its coming years i.e., to bring 1 million SMEs online over 3 years. As per our current projections, we're expecting to hit $1 million by the end of March 2015 with a subscriber base of over 2000. We tend to maximize the growth rate by holding communal workshops in each state in India and teach them the benefit of having an online presence and making them build their website instantly too.