Business Out of Organic Waste
Poonam believes that every citizen has a moral responsibility of keeping their surroundings clean. She rightly, feels that the organic waste, which we usually dump in the dustbin can be used in a productive manner to prepare compost and this is what her c
Tags: Ms Poonam Bir Kasturi, Proprietor, Daily Dump
BY Harmit Singh | November 18, 2009 | COMMENTS ( 0 ) |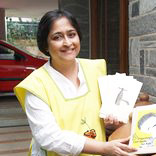 Ms Poonam Bir Kasturi
Proprietor, Daily Dump
Poonam believes that every citizen has a moral responsibility of keeping their surroundings clean. She rightly, feels that the organic waste, which we usually dump in the dustbin can be used in a productive manner to prepare compost and this is what her company, Daily Dump is based on. It provides the service of composting.
Harmit Singh (HS): Tell us about Daily Dump.
Poonam B Kasturi (PBK): Rather than throwing waste like apple skin, banana skin and other organic wastes into the dustbin, they can be mixed with other compounds to convert them into compost. This will have two advantages. Firstly, our surroundings would become clean and secondly, high quality compost can be prepared at a minimal cost.
I am a trained designer from National Institute of Design, Ahmedabad and with a team of 7 people, I provide the services of aerobic composting.
(HS): How did the idea germinate?
(PBK): I had been observing how people usually throw organic waste rather than thinking of some idea of putting it to some productive use. Being a creative person, I thought of taking the initiative myself. Thus, Daily Dump a business of converting organic wastes into useful compost came into being.
(HS): What is your business model? Where does the revenue come from?
(PBK): We charge people for provide the services of composting. My team imparts training to people on how to compost, besides providing services. We have various plans, weekly, fortnightly, monthly etc for the services.
(HS): Who do you target?
(PBK): We sell services and the knowledge of composting of organic wastes. Our target customers are people who want to convert their organic wastes into high quality compost.
(HS): How did you initially fund your organisation?
(PBK): The funds required to set up the organisation and to run it have always come from my pocket.
(HS): To what extent do you use technology for your business?
(PBK): This business does not require any technology, just the manpower and the knowledge of composting.
(HS): How do you market your services?
(PBK): The publicity is mainly through the word of mouth. It is also done via the print media. I feel awareness is very important; people should be made aware of the fact that organic waste can be reproduced to high quality compost.
(HS): What difficulties did you face when you started?
(PBK): It wasn't really much difficult to start this business. I had the idea and knew how it is to be done
(HS): What advice would you like to give to aspiring entrepreneurs?
(PBK): I believe that one should have adequate finances to start a venture on his/her own. One should initially work for a few years in a company, before starting up.