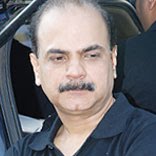 The Vamoose.in website is based on an e-commerce platform developed by renowned European technology company 'EL Media Global'. It is offering the most innovative scheme which has become very popular worldwide that of Group buying. 'Vamoose.in' is in talks with many travel, leisure and hospitality companies, to join hands with them, in offering special deals that will be marketed by Vamoose.in. There is already a very positive response among the airline industry, hotels, spas, etc, and the first set of deals are underway. This surely gives Mr. Manoj Gursahani, MD, Vamoose.in more than one reason to smile.
Archana Pareek (AP): What prompted you to turn to being an entrepreneur?
Manoj Gursahani (MG): Once I was discussing about the success of the Groupon model with my old friend Hari Swaminathan and suddenly it struck us that we could translate that experience to India. We then decided to start Vamoose.in and focused on the Travel vertical. We live in a world full of opportunities and ideas. The decision to be an Entrepreneur was based purely on the fact that if you have a good idea, the key is speedy execution backed by a good team.
AP: What is Vamoose all about?
MG: We have a very simple business model in place. We encourage people to come to us as a group to buy a deal, and in return we assure deals at a highly discounted price. Our business concept is based on the group buying model, wherein individuals get a benefit of Group rates. Vamoose.in offers travel and leisure packages for both national and international destinations.
AP: How has the company grown under your able guidance? What has been your strategy to bring it to this level since inception?
MG: Though we are still a start-up and we are encouraged with the exciting growth, it is too early to tell our strategy for growth. However, we have planned out certain innovative initiative that will further boost our growth.
AP: How was the company funded when it began?
MG:  As promoters, I along with Hari Swaminathan have done the initial seed investment in the company. As we are a startup we are currently using our own funds, but as we scale we will look at the options of the PE route.
AP: How did you develop your first team? What were the challenges you faced?
MG: The initial challenges were to explain to them our cutting edge concept and share with them our path to progress and how they could be a part of this excitement. But once they are on board, the excitement of growth and success percolates at all level, and at each passing stage, we are joining with more people.
AP: What is the biggest challenge you have faced so far while operating in this sector in India?
MG: The concept of group buying is at its nascent stage presently. Therefore, the biggest challenge is to explain to our suppliers about the group buying concept and the benefits they will reap when they participate. I am sure the concept will take up pace when people are clear about financial benefits it offers.
AP: What have been the key marketing and brand building strategies for your business and how do you define your USP?
MG: We are primarily focusing only on social media marketing and online strategies. We work on how to cost effectively reach our discernible clients. Out USP is that we offer most innovative deals at incredible discounts.
AP: How do you see your current sector grow from here onwards? What's the scope for small and medium entrepreneurs when they enter this sector?
MG: We see strong growth in this sector as consumers increasingly understand the potential and benefits of group buying. The scope in the SME space is huge. More the entrepreneurs in this sector, higher will be the competition and the better it will be.
AP: What is your word of advice for today's entrepreneurs who would like to enter into this Industry?
MG: My advice is, if you think you have a good idea, gather a good team and pursue your dream relentlessly. As regards the investment initially they need to be bootstrapped.