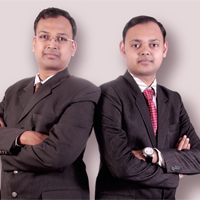 The will to run and grow their own business has taken Vinit (Left) and his brother Bipin Saraogi (Right) quite far. From supplying sweets and crackers during their college days to running a fast emerging consumer durable brand, Saraogi brothers' TBD Tradelink has grown 50 per cent year-on-year and is well expanding across India. Vinit Saraogi, Managing Director, TBD Tradelink, shares the growth path, competition and future road map in a chat with Entrepreneur India.
How did you start TBD Tradelink?
I and my brother Bipin Saraogi initially started supplying sweets and crackers from our home during Diwali festival to recover our tution expenses when we were 16 and 13 respectively. Later we ventured into trading of electrical accessories with Rs 20,000 loan as initial investment. We did not have any business background and financial support as our father Vijay Saraogi was working as a manager in a textile firm. The breakthrough for us was when we got the opportunity to act as a distributor for Bajaj Electricals Ltd in 2007, and in the very first year of its distributorship, we were among the top three distributors of Bajaj Electricals in Mumbai. However, we realised that we had to do something for our very own brand, and finally, we launched TBD Tradelink as a company in 2012.
What are your product and price range?
We have varied range of home appliances, such as induction cooker, gas stove, fans, irons, water heaters etc. We have recently launched a complete range of Mobile Power Banks that has a tremendous market in India. We want to compete in quality. Apart from this, we also have two franchised retail stores of GreenDust in Mumbai that provide branded refurbished factory seconds products at up to 40 per cent discount with warranty.
How do you compete with other brands in this segment?
We are our own competitors. We want to compete with our own products so that we can produce a better product every time. However, we focus on providing complete value for our customers' money through quality products at competitive price than what other big brands offer. Our products pass stringent quality control test and we personally inspect every product's manufacturing. In addition, our products are environment friendly and safe even after many years of use.
How do you carry outinnovation in the business?
At least 25 per cent of our office hours are spent on brainstorming and idea generation. We constantly check what consumers want and how to make their life better. We participate in various world trade fairs and check new products there and ponder on how we can develop them back in India.
What was the key challenge that you had come across earlier?
The main obstacle was funding.We are not IIM alumni who can get instant funding due to their strong network. However as we grew in our business, banks and financial organisations realised our potential and joined with us. For us, it was essential to ensure that our investor's money is utilised properly. We could not waste in non-performing people and products. We have re-planned and re-strategised our move and most of the things are on track now.
What are your future plans?
We will be expanding our product range to LED lighting, solar panels, white goods appliances, water purifiers, etc. We are setting up our service centres across the nation. We are also planning to launch our online portal with many unique offerings. We have presence in all major cities of Maharashtra, Gujarat, Delhi, and Rajasthan and are planning to foray into a new state every quarter. Moreover in next three years, we will be expanding to Nepal, Bhutan and Bangladesh and targeting to list on on stock exchange by 2020. 
Fact File
Turnover - Rs 50 cr for FY15; Rs 500 cr by 2020
Growth rate - 50-60% year-on-year
Expansion - Nepal, Bhutan, Bangladesh from 2018 onwards
Focus Products - Solar panels and LED lighting