The childcare people
You need not worry about your kids when you are away as Your Kids R Our Kids (YKROK) care centre provides your child the desired quality of care. YKROK is a nation wide educational child care provider, run by entrepreneurial couple Bharat Kapoor and Suman
Tags: Bharat Kapoor, Director, Your Kids 'R' Our Kids, exclusive partnership, Teaching Strategies, scalable franchise business
BY Punita Sabharwal | October 03, 2009 | COMMENTS ( 1 ) |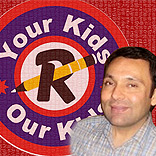 Bharat Kapoor
Director, Your Kids R Our Kids
You need not worry about your kids when you are away as Your Kids R Our Kids (YKROK) care centre provides your child the desired quality of care. YKROK is a nation wide educational child care provider, run by entrepreneurial couple Bharat Kapoor and Suman Kapoor and caters to the needs of the working couples, especially the ones working in the corporate sector. In a conversation with Punita Sabharwal, Bharat Kapoor talks about his company's growth and expansion plans.
Punita Sabharwal (PS): What was the inspiration behind the foundation of YKROK?
Bharat Kapoor (BK): Employers are focusing on their work culture in India with eyes set on recruitment orientation, retention and employee support, in order to maximise impact on their global value chain. Lack of availability of high-quality child care support at home, in marketplace or at work-place, affects employee performance. The impact of child care issues on business has become magnified in India.
Issues faced by working parents in India with changing family structure, supply of high quality child care, ageing grandparents and unreliable domestic help lead to my inspiration of offering child care services to the corporate sector.
PS: What is the value proposition for the customer, how well will the service solve the problem?
BK: We are the highest quality-service-provider, who will operate the on-site or near-site centres to provide a quality programme and mitigate risks. We fulfil all programmatic requirements of corporates, such as infant and toddler care, geographic coverage, affordability etc. and provide the desired quality care.
PS: What about certification and affiliation of YKROK?
BK: We have an exclusive partnership with Teaching Strategies of the United States. Majority of America's elite preschools who charge US$ 2000 per month for educational child care services implement Teaching Strategies. Teaching Strategies provides YKROK with appropriate curriculum materials, staff development services and parenting resources which we adapt to our culture. Centres are in the process of getting "certified" by Teaching Strategies considered as "gold seal" of sorts, since there is no regulation or accreditation system in India.
PS: How would franchising help and what are your expansion plans?
BK: This is a great space and a clear opportunity to build YKROK's business pan-India.
The day-care model and the corporate tie-up approach make sense and the positioning of quality provider helps YKROK differentiate itself. IBM has contracted with us, and we are the only provider in India to have gotten seed funding from IBM to launch our Bengaluru centres. This is a relatively scalable franchise business and does not require too much capital. The basic requisites of YKROK are to acquire rental space at attractive locations at affordable prices and to scale up operations rapidly and efficiently.
PS: What is your USP and key differentiator to other competitors in the industry?
BK: We are the early mover in corporate focused day-care, and have ideal ratio for space, child and care givers. We provide international layout and standards on safety, security and hygiene and have strong reference clients amongst top corporates. To meet the needs of our corporate clients we have developed several innovative programs which include: weekend care, parents' night, crunch time support, emergency back up child care, on-site child care and near-site child care.
Please add your comment
venu
May 27, 2015 at 12:23 am
need to understand
Reply |