The Hub of Masterminds
Jade Magnet (earlier known as CreADivity) is a crowd sourcing platform for creative services. First-of-its-kind in India, it is an ecosystem where services range from branding, advertising, animation, communication, graphic design, and product design acro
Tags: Mr. Sitashwa Srivastava, Co-founder, CreADivity or Jade Magnet
BY Harmit Singh | November 16, 2009 | COMMENTS ( 1 ) |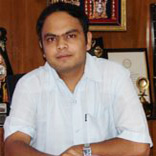 Mr. Sitashwa Srivastava
Co-founder, CreADivity
Jade Magnet (earlier known as CreADivity) is a crowd sourcing platform for creative services. First-of-its-kind in India, it is an ecosystem where services range from branding, advertising, animation, communication, graphic design, and product design across various media. These can be delivered through a network of thousands of creative providers. The ecosystem includes partners, who take care of execution of campaigns, printing and plugging technology behind designs and many other services. Jade Magnet, currently, has close to 1100 providers and 40 clients.
Harmit Singh (HS): Tell us about CreADivity.
Sitashwa Srivastava (SS): CreADivity is an online platform to solve creative problems of people based around the world. It is a platform for creative professionals like marketing freelancers, advertising agencies, full-time marketing professionals, website designers, animation designers, bill-board users and the service providers in the area of branding, advertising, animation, communication, graphic design and product design across various media. The platform creates business in two aspects. Firstly, for a client who wants to get their work done and secondly for the professionals who would provide services to these clients. A client, on registering can view a gallery of some already completed assignments and can post his unique requirements mentioning the type of design, the budget, and the timeline. The professionals on the other side, can view the requirements of the clients and provide solutions to it. The website enables a client to avail of many options, which otherwise would have been difficult had he gone the traditional way; that of visiting 2-3 designers, in person.
(HS): How did the idea germinate?
(SS): The idea struck, when Mr. Manik Kinra, Mr. Pradeep Sonthalia and I were attending International Entrepreneurship Classes, while doing MBA from Great Lakes Institute of Management, Chennai. We shared our idea with our professor, who appreciated it. After completing the course, and having a brief stint in marketing and sales at Cognizant and other companies, we finally thought of materialising our idea. We participated in a contest hosted by TiE (The Indus Entrepreneurs), Bangalore known as Entrepreneur Acceleration Program, which was held to select 1-2 best business ideas. Our idea got selected as the best amongst many. There, we met various people, who offered us help on various fronts like technology. During this period, we also came across Mr. Muki Ragunathan, owner of a digital agency called Pepper Square, who later, became the investor for our company. He is also our mentor, who advises us and gives solutions to our problems.
(HS): When did you start the business?
(SS): We started the business in July 2008 and now the total number of professionals, who work together because of the platform, have grown to 1100.
(HS): How did you initially fund your organisation?
(SS): As I mentioned earlier, Mr. Muki Ragunathan, owner of a digital agency called Pepper Square funded our organisation.
(HS): What are the advantages of getting associated with CreADivity?
(SS): I feel, the biggest advantage that my prospective customers can have is that of cost reduction. They, instead to talking to or visiting various designers, creative minds, etc can easily post their requirements on our site, at no cost and make the best creative brains, the world over, work for them.
(HS): What difficulties did you face during inception?
(SS): There were various problems in the beginning as the concept was new; there were obvious oppositions. Clients were uncomfortable as they had apprehensions, whether the concept would work or not. Crowd Sourcing was another problem that I faced. Initially the people were not posting their requirements on the website as they did not trust the method.
(HS): What do you look forward to?
(SS): CreADivity has changed to Jade Magnet, a new company, wherein we have decided to make the whole process automated. Mr. Pradeep Sonthalia will not be a part of it. Mr. Kinra and I are the co-founders of Jade Magnet.
(HS): Do you have a role model?
(SS): I do not have any role model. I believe, commitment is the key to success. Another thing that an entrepreneur/professional ought to have is the quality of work done.
(HS): What advice would you like to give to the people, who aspire to be entrepreneurs?
(SS): 'Persistence' is the word. There are times when one feels low, things doesn't work out, there are no funds but one needs to survive these times. One should be persistent!
Please add your comment
Ankit Aggarwal
October 24, 2010 at 1:19 am
Hi, The article is really good.Actually i am looking for some advice from you. Could you please provide me any idea about the Internet Marketing. Is there something i can start with in this field?Please do also mention the name of the company along with the details.Contact member@franchiseindia.com
Reply |