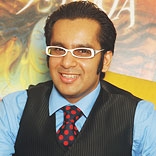 Comics are everyone's favourite but not many think of publishing them. Vimanika Edutainment Pvt Ltd brings out comics about the super powers of the Indian mythological characters and popularise the tales of forgotten heroes.   
1. Franchise India (FI): Tell us about Vimanika Comics?
Karan Vir Arora (KVA) –A Vimanika comic is an Indian comic company on the lines of international giants and is a part of Vimanika Edutainment Pvt Ltd. The super powers of Indian mythological characters like Vishnu, Hanuman and Krishna have been contemporized to appeal the Indian youth and bring back the culture of comic reading and comic collection. Some of the popular titles of Vimanika are 'The Sixth', 'Moksha', 'Dashaavatar' and an upcoming title is 'I am Kalki'.
2. FI: What was your prior occupation? What made you consider entrepreneurship?
KVA –I am a school push out and have learnt my ways reading books, associating with people and shaping myself. Entrepreneurship just happened. I do not agree with the herd mentality. I believe in doing unconventional things. There was a vacuum in the comic segment in India. When virgin comics launched in India, I thought I can also do this; bring out an Indian version.. Comics create value. Comic collection is like an art form. Super heroes of our series like Karan and Hanuman can become like Superman.
3.  FI: How do you fund your business?
KVA – Funding came from home. 
4. FI: What is the biggest challenge you have faced so far and what was the strategy you implemented to deal with it?
KVA – Initially it was very hard. I knew nothing about publishing comics. We had no idea about the art proposition. I learnt things by making mistakes. For educating myself, I attended seminars and events related to the business. And associated myself with people to acquire the skills. By 2009 people like channels and production houses started approaching us because of the good work that we were doing. To be a businessman one has to know the basics and groundwork of selling and that I am good at.
5. FI: How was the experience of hiring first employees, building a team or finding a co-founder?
KVA – At Vimanika, we have an esteemed panel of researchers and historians to check the authenticity of the content.  We employ award-winning artists and international editors.
6. FI: What is your growth plan in the next three years?
KVA – We plan to add more titles under our banner. Vimanika also intends to explore other media like online, digital, iphones, moives and games. We want to become an international name with presence in at least 10-20 countries. We want our titles to become a part of school curriculums.