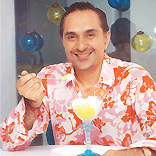 With a dream of serving Indian food buffs with mesmerising flavour of Italian desserts, Vijay Arora, Managing Director, Gelato Vinto in conversation with TFW yearns to spread the gelato culture with pan India presence.
Punita Sabharwal (PS): From where did you get the idea of starting a Gelato parlour?
Vijay Arora (VA): I have been a frequent traveler to Europe, especially Italy on my business trips. During these visits, I quite often came across gelateria, say, the ice cream parlours. Italians are passionate about their gelati. 
Before opening the first gelateria I studied the Indian market, there was a distinct gap in ice cream market of 2005 which could be filled. I attended the comprehensive gelato-manufacturing course at Bologna - Italy. So the inspiration came from Italy. We opened the first gelateria way back in 2005.
PS: How is your concept different from others?
VA: Gelato is made from natural ingredients with no synthetic flavors or essence. Our gelato is 96 per cent fat free, its natural ingredients have minerals and vitamins because only fresh fruit nuts and condiments are used. Gelato has a creamy, silky texture which is served with spatula at higher temperature than industrial cream. Unlike industrial ice creams it is produced daily, where as, industrial ice cream is manufactured and stored for longer periods.
PS: Tell us about the various distribution formats of Gelato parlours.
VA: We have expanded the retail footprint via flagship stores (malls and high streets), standalone stores (high street) and shop-in-shops (strategic alliances) with major food and beverage retailers and quick service restaurants.
Also, we have home delivery model in place. The customer can call on a centralised number and place the order, which is executed within 1-2 hrs.
PS: How many Gelato parlours do you have at present? What kind of retail locations do you target for opening Gelato parlors?
VA: Currently, we have 25 outlets and we are still counting. We are available in Delhi and NCR areas.
Our plan is to have 200-300 outlets (directly owned and franchised ones). We target high footfall areas, it could be the mall or high streets and IT parks and hubs.
PS: What are your requirements from your franchisees?
VA: Depending on the geographical location, area requirement is between 30-300 sq. ft + and on infrastructure needs of outlet; the investment could range from
Rs 2.10 lakh onwards.
PS: What kind of training and support do you extend to the franchisees?
VA: GelatoVinto assists franchisees in preparation of detailed project report, site selection, interior design and architecture, selection and procurement of equipments, project coordination, IT systems commissioning, manpower selection and pre launch activities. GelatoVinto has developed detailed manuals outlining each and every aspect of the operation. We provide support during operations like operational audit and periodic service reviews. We also provide support in marketing, local level promotions, operations and quality assurance on an ongoing basis.