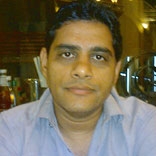 Smitten by the idea of wedding theme based restaurants in the west while globe- trotting, Zuzer Lucknowala decided to introduce his fellow countrymen to a similar concept and thus The Wedding Cafe & Lounge was born. In a chat with us, he talks about his restaurant, its specialties and what makes it a happening place.
SS: Tell me about yourself, what was your previous profession and how did you think of coming into this business? 
ZL: I own Dios a banquet hall in Tardeo, Event Factory which specializes in organizing corporate meetings in and across the city and Vivaah that specializes in organizing high end and classy weddings. I have travelled extensively and the concept of a wedding theme based restaurant is very popular in the west. I thought of introducing this innovative concept in Mumbai where wedding industry is huge and where people have the money to have that signature wedding.
SS:   What role did your family play in terms of supporting you? 
ZL: My family was extremely supportive. Party Cruisers Pvt. Ltd. was started by my wife Rachana and I and we both are alumni of Dadar Catering College. I kickstarted off with the outdoor catering unit, where I was soon joined by my wife Rachana, to accelerate further growth by diversifying into the event management field.
SS:  What is your company's full name and what is your product range? 
ZL:  A L ENTERPRISE is the group's name.
The Wedding cafe & Lounge offers services ranging from..
Global Fusion restaurant
Lounge
Rooftop sunset Banquet venue on the 6th floor of the same building which gives a panoramic and breathtaking view of the landscape when the sun sets.
Wedding related services
Designer store for Wedding outfits
Art of chilling Sunday brunches
Workshops for Brides on dining etiquette etc
SS:  How did you fund the business initially?
ZL: Combinations of several factors, internal funding, loans & Pvt. HNI investors
SS: What challenges did you face in establishing your business? 
ZL: Any new start up business needs to set its foundation ...But the concept has been so well accepted .....  
SS:  What is your team size and what challenges did you face in putting your team together, how was the experience of hiring the first employees? 
ZL: My team size is about 40 employees who handle kitchen operations, service operations and sales and marketing for The Wedding Café & Lounge.
SS:  What is your product's USP? 
ZL: A concept based restaurant which acts as a bridge between high end vendors and end consumers. The positioning of The Wedding Café & Lounge is that it is going to be India's largest Wedding Management Service provider.
SS:  What is your marketing strategy? 
ZL: Coverage in print media, radio, sms and mail blast besides doing events and promotions that are specifically centred around wedding theme.
SS:  How are you planning to scale up your business? 
ZL: By foraying into new ventures in and around Mumbai.
SS:  What makes your restaurant unique? 
ZL:  A fine dine restaurant in with concept of the wedding services
SS: Who are your target audience? 
ZL: 20-50 age group. People within the income bracket of 4 lakhs – 50 lakhs.