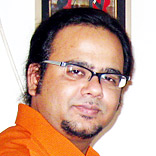 Aditya Basu, founder of Xtreme Television, would not have succeeded in his venture had he not decided to stick to it come what may. Today he has a name of his own in the industry. He spells out his secret mantras to Franchising India Media.
Shambhavi Anand (SA): Tell us something about Xtreme TeleVision.
Aditya Basu (AB): Established in 2003 mainly as a Television Production House, over the few years, Xtreme TeleVision has gone through radical transformation keeping at par with the needs of digital content production and digital content delivery of present times. Having its own A/V Post Production and Internet Publishing set-up presently Xtreme TeleVision caters to Television/Video, Radio/Audio, Multimedia, Webcasting/Podcasting & e-Publishing.
(SA):  What is the start-up story behind your business venture? Why did you leave your high paying job?

(AB): Before I started working with news channels in New Delhi, I was a documentary & ad film Maker based out of Kolkata ('95-'99). I started off as an entrepreneur. And I must confess that I did well for I was an accredited Short Film Maker registered with the Short Film Makers Association of Eastern India. But to become a filmmaker of national level, it was necessary to shift to Delhi for which I needed money. And that was the reason behind taking up jobs in TV channels; it kept me in touch with my area of interest and also paid me well.
(SA): How did you initially fund your organization?
(AB): I had some money in Provident Fund from one of my previous jobs and also a few credit cards. So a proper utilisation of both helped me to pursue my dream. Soon after I started, revenue gradually started to roll in and after that with occasional ups and downs things were running smoothly.
(SA): What is the USP of XTV?
(AB): We at XTV have an in-depth understanding of the media in its various forms. When we are giving solutions to any Audio/Visual/Multimedia client we keep in mind all media formats and do mix-and-match of all the available resources to give clients the maximum media and communication boost on their available media production budget. This is our USP. We help our clients gain maximum mileage using all the media platforms.

(SA): What obstacles or challenges have you faced in bringing XTV to this level?
(AB): Lack of knowledge about the market was the biggest obstacle. So it was hard to sell a product or concept when people were not aware of such service and its benefits. Secondly, we in India are reluctant to try out new things, especially if we have to spend money for it. So it is difficult to market your product, particularly products related to media communications. Arranging for finance was also a major issue. I had to raise funds from my resources like PF. Let's call it maximum utilisation of available resources... there should be very less money left on the table.

But once your efforts are recognised taking all those troubles seems worthwhile. I was part of the International Jury for the Digital Emmy Awards '09 (MIPTV Awards, Cannes, France). Another feel good factor is XTVWorld.Com and PRESSbooth.ORG is media partners to the whole IPTV World Series and a whole lot of other International and National Trade Fairs.
(SA): Did you at any point of time want to give up? What stopped you from giving up during the frustrating days of running your business?
(AB): I didn't feel like giving up but I did have dilemmas of a starter. The financial pressure was choking my free existence and it went up till one time and then gradually decreased. It was kind of do or die situation – I mean I either did it or I went back to a job life. So I did it.

Another reason for continuing on my own and not in any TV Channel is that in a job, the company decides what you will do and what you will learn. Being free I could decide what I will do and what I want to learn.
(SA): Who is your role model?
(AB): Well I don't exactly have any particular role model as such....but lets say there are  many people -  whom I like for being what they are and for what they have achieved in their respective lives. Some of my favourites are Satyajit Roy, Kurosawa, Bill Gates, Steve Jobs, Ajij Premji, Nandan Nilekani.
(SA): What, if any, final advice do you have for new entrepreneurs?

(AB): Don't give up. They say "There is always a light at the end of the tunnel" – it's just that time is testing you and that is what you need to understand. Don't hesitate to take a decision irrespective of it is good or bad. A bad decision is better than no decision at all.