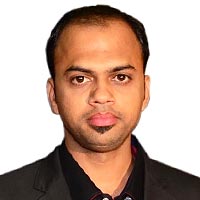 In a tete-a-tete with SMEntrepreneur, Rajendra Rao, Founder, U-Wah Solutions and Co-Founder Madea Creative House, shares his story about his successful entrepreneurial stints, the challenges he faced and how he overcame those challenges.
Give us a brief glimpse of your entrepreneurial journey so far...
I became the founder of U-Wah Solutions two years back. While working for a project in college, we had to launch an advertising company and make ad campaigns.  The genesis of the name U-Wah happened then and was most appreciated by our professor and colleagues. Ever since that day, I was sure to start my own company by the name U-Wah.  Next day I had a domain name registered and officially made my first investment of Rs 2,500. 
Being a college dropout, I didn't have many job options. However, I got a break in Jasubhai Digital Media in 2004 as an Audience Development Executive. My stint with Jasubhai Media, exposed me to the world of realities—ups and downs, the operational setup chores, time and target meeting pressures, etc.
Later in 2012, after completing my MBA in Marketing from ITM-Kharghar, I along with my partner Rakesh Sequeira took the final decision of starting our own venture. We formally registered U-Wah Solutions. Our initial set up was from my home and we formally launched our website.
First Client...
Having built contacts in the previous stints, we pitched many for the business, and in April 2012, we bagged our first deal of Rs 15 lakh from METSO. For this deal, we were competing with Planman Media. The CFO of METSO noticed the zeal in us. Moreover, the innovative idea and pricing was the feather in the cap and helped us bag our first project. Since then, we have done a number of projects for Infosys, GlocalInformat and many more.
Second Start-up...
It was in August 2013, when we ventured out on the journey to establish the second start-up – Madea Creative. It all started when Nehal Thakkar, who has family roots in the real estate business. She came up with the idea of using her vast knowledge in the vertical to organise large-scale events and property exhibitions. We joined hands to materialize this venture and christened the firm Madea Creative House, which spells Mad Ideas.
How easy or difficult it was for you to manage two start-ups?
Nothing has been easy or difficult per se. U-Wah Solutions is our first baby and Madea Creative House is the second. Both have their own specialities and USPs. U-Wah caters to diverse sectors while Madea Creative House caters exclusively to the Real Estate space. Madea Creative House commenced its operations in August 2013 and the co-founder was Nehal Thakkar. Her profound experience in real estate world spelled brownie points for us.
What are the emerging trends in the respective industries?
The world of events, advertising and branding is all about innovation and execution.
 Events
Event organizers are no more a mere point for providing operational set up, stage set up, lights, music, entertainment, security but have become a facilitator for technology and accessibility. Today, with the evolving time and needs, easy access to conferences, smooth surfing through the events, onsite self registration, live social media connectivity and kiosks to help customers navigate through the conference is what clients want. Events are now seen with a more holistic view of connecting and re-connecting.
Advertising
Advertising is all about getting the message across. Traditional media such as TV, print and radio are losing footprint. Clients want to connect with their customers through social media and innovative BTL campaigns; the trend of speaking the language the customers speak is the norm today. Connecting with the customers in real time and reaching through Facebook, Twitter, Pin Interest are the new mediums of advertising.
Branding
With young entrepreneurs emerging in the market, there is a surge in the demand for branding. We see immense opportunities in this sector. We are currently working with entrepreneurs to help them create a unique position and assist them in identifying platforms to advertise.
What challenges you faced initially and in the process of scaling-up your business?
I believe managing sustainable growth is what a business needs rather than just scaling up. During the initial days, I was confronted with the challenge of positioning myself in the market amid already established firms. Hence, getting projects was a challenge.
Starting small made sense and I followed the piecemeal approach and kept lower profit margins, low price points and high quality. This principle helped me add many projects to my kitty. My USP was innovation accompanied by execution. This helped me turnaround my business, entice new customers and also retain my old customers.
What are your long-term growth strategies to emerge as a leader in the market or to combat competition?
A simple strategy is to deliver a seamless customer experience by enabling client co-creation and customization. To tailor to the needs of the customer and their budgets is an ongoing process and innovation is the life blood for survival. This is a sole strategy which entices new set of customers for us and will continue to do so in the long run.
How do you view the entrepreneurial and start-up ecosystem in India?
We have a strong and well established entrepreneurial ecosystem existing in India. Whereas, the start-up ecosystem is in the nascent stage; it's far from being perfect but is slowly gaining momentum. With the availability of easy access to market, finance, human force and talent pool, we see entrepreneurs emerging now and then and turning opportunities into financial gain. Whereas, start-ups have founders who create innovative ideas and turn them into business eventually. I see synergy between the two.  Entrepreneurs and founders can together be important catalyst to build-out a mutual ecosystem.
Your advice for aspiring young entrepreneurs...
Young entrepreneur should have the right mindset, clear vision, believe in one and keep calm under all circumstances. There will be ups and downs but having the right attitude and patience makes every goal achievable. Lastly, take risk, no matter how big or small, let no fear stop you.