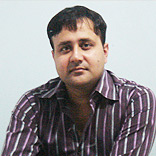 Understanding the different fitness requirements of women and providing them the right solutions of dealing with weight loss, Diva Fitness came into existence as the brainchild of Sachin Malik
The Franchising World (TFW): How did the idea of starting a separate fitness studio for women come to you?
Sachin Malik (SM): The no. one reason, why women don't prefer going to gym is because of self triggered intimidation. Only few women are confident about their body and its connect to gym. Most carry an inhibition of not being in specific gymworthy shape to become a gym visitor. The unwritten gymworthy code deprives lot of women of health benefits that can be derived from it. Being a 'women-only' gym helps us in structuring our workout regime to suit fitness needs of women, which is primarily to burn fat and to go down in size. There is no facility like this in the Indian market and that is why, we concentrate on 'women-only' fitness studios, which will drive the growth of fitness industry in India.
TFW: How do you see the health and fitness business evolving in India?
SM: With the growing economy, spending power of Indians has grown higher than ever; combined with awareness about fitness and the desire to look good, makes it a sunrise industry and thus the right time to enter the fray. All the industry leaders are very bullish about health and fitness, and the industry is seen as a very promising business opportunity.
TFW: How many centres do you operate at present and what are you expansion plans?
SM: We are going to launch Diva Fitness centres country wide, and are looking for franchisees to join our network. We have opened two company owned centres in Delhi, and rest of the locations would be franchised. Initially, our thrust is on Delhi and Northern region.
TFW: What kind of training and support a franchisee will get in partnering with Diva Fitness?
SM: Diva Fitness will provide a comprehensive 360 degree assistance in all the aspects of running the business, namely, detailed project report, site selection, interior design, architecture, procurement of equipments, software & IT systems, manpower selection/training and pre launch activities. We have developed detailed operating manuals, outlining each and every aspect of operation. Diva Fitness will provide support in marketing material and local level promotions.
TFW: Will you ensure certification of coaches and trainers?
SM: All the coaches and trainers will undergo a two-week to month long training course depending upon their present level of skill, at company owned centre, which will cover all the aspects in details and will be certified at the end of the course.
TFW: What kind of promotional activities do you undertake for marketing your brand?
SM: As this business is very local in nature our primary thrust is in local areas. We use mediums like fliers, banners, hoardings, SMS for local promotion, but as we go on to become regional and national our advertising will also reflect our growth
TFW: What are your franchise requisites in terms of area and investment?
SM: The prospective franchisee should possess business and service acumen to run his enterprise. The franchisee need not be from fitness background, they can be trained in  the required aspects. In terms of space the franchisee will require a space of 700-1000 sq ft and an investment range of Rs 18-22 lakh.