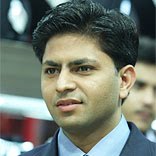 Praveen Goel, who excelled in gold import and manufacture of loose diamonds, set up his first retail outlet in Karol bagh which in less than 2 years of time has become a name to reckon with. Here, in a chat with Praveen Goel we hear the success story from the horse's mouth per se.
Seema Seth(SS): Tell us about Shree Raj Mahal Jewellers.? How did the company come into existence?
Praveen Goel(PG): We entered retail 1 and half years back but we have been in the gold and diamond wholesale business for more than 15 years. I and my brothers thought of this business so it was a team dream. Today, we have a 150crore business.
SS: What is your business model? What is your product line?
PG: We pay more emphasis on designing, costing and purity. Since, our cost is the best, we believe in retaining the customer so that he becomes regular with us. I believe in giving best value for money and not make profit.
SS: What prompted your decision to be an entrepreneur? Can you recall an interesting incident behind the leap?
PG: When I used to sell gold and loose diamond to the jewellers, and there was a lot of profit so I thought why not get into retail since the route would give me a chance to blast the line totally because my costing is the best. I import gold and I have another company worth 500 crores. So, I thought if I have a manufacturing unit, I will be able to do wholesale so I put the plant in Mumbai.
Moreover, when my family used to buy gold and diamond or go for exchange, I noticed a marked difference in the price, so I thought of starting my own business to avoid the huge difference. People said, "We are scared of diamond or gold so I tried to ameliorate their fear by giving them 100 per cent exchange value".
While we are still on the subject, I remember, I once wanted a diamond watch for which I searched whole of Karol bagh but didn't get it, this prompted me to start a line where I sell diamond cufflinks, spectacles, pen, watches, belt buckles and even mobiles like diamond studded Nokia, Tag Heuer and Vertus.
SS: How has the company grown under your able guidance? What has been your strategy to bring it to this level since inception?
PS: I take interest in each and every aspect concerned with retailing and my drive seems to have rubbed on to others. I am reaping rewards of my hard work and through my motivated team.
SS: How was the company funded when it began?
PG: We had a family restaurant in Karol bagh which we sold for 10 lakh and raised the amount.
SS: Are you giving any scheme to your consumers?
PG: No, because it is very dubious. For example, people say we don't take service charges, it is not possible. If they save somewhere, they have to spend somewhere else to balance the cost. We don't sell without a bill that stands a proof of our product's purity. On the bill, carat and hallmark is clear so the customer is relaxed and his confidence increases.
SS:  What would you have been if not an entrepreneur? Why?
PG: I couldn't have thought of a better option than this. I would always stay here.
SS: What kind of support did you receive from your family towards your entrepreneurial aspirations? What were the challenges you faced?
PG: Since gold prices have a tendency to fluctuate a lot, my brothers who were chemical and other business supported me a lot during such periods. They stood by me through thick and thin.
I have a broking house; the company is in Dubai and member of MCX and NDX.
SS:  What is the biggest challenge you have faced so far while operating in the Indian Jewellery segment in India?
PG: Pursuing Karol bag consumers to purchase hallmark jewellery has been my biggest challenge which I have overcome by winning their trust in return in a short period of time.
SS:  What have been the key marketing and brand building strategies for your business and how do you define your USP?
PG: Best prices, purity and 100 per cent exchange value.
SS: What is your growth plan for the company?
PG: We will soon start another outlet in South X and then later in other parts of the city.
SS:What are your other interests apart from business? How are you busy in your free time?
PG: I hardly get time out of my business but if I even do, I like to relax in travelling to other cities and countries.
SS: What is your word of advice for today's entrepreneurs who would like to enter into this Industry? What investment is needed?
PG: Keep your mind pure like 24 carat pure carat gold . The investment that would be needed can vary from 50 lakh to 100 crores, depending on the size and type of business. An advice do the same thing but in the way successful people do, that's the mantra to bring home success.