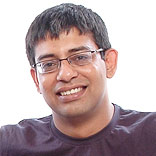 While Google and Bing rule the world of 'search', Kreeo has a further more specialized offering for information seekers.  Sumeet Anand, the founder has developed a revolutionary solution to treat the problem of information overload by filtering out and organizing relevant information required by a user. Having armed himself with an experience of 13 years in the IT industry, Kreeo is his contribution to make India lead the 'knowledge age'. A promising niche venture in the knowledge space, Kreeo is all set to make waves in a short time. Taslima Khan spoke to Sumeet.
Taslima Khan (TK): After a rich experience of 13 years in the IT industry, what prompted you to settle down as an entrepreneur?
Sumeet Anand (SA): The entrepreneurship bug was always there, that's what I always wanted to be.  I almost started a company during my MBA itself but decided to go for some experience and then start.  While in job I tried starting up a few times, always had great ideas (some of them are still relevant and ahead of times) but failed to get initial capital, prototype or team.  Finally a lot of my ideas converged, passion was at its peak and I was able to solve problems that failed me earlier and I took the plunge.
TK: Mention briefly your educational qualifications and family background. How supportive was your family towards your decision to be an entrepreneur?
SA: I am a 1st generation entrepreneur though my grandfathers (maternal/ paternal) were in business (pre independence time) but father was into service and mother a house wife.  I did my graduation in computer science from St Stephen's college Delhi and MBA from GIM, Goa.   I was lucky to have full support of my family especially my wife who till date is the sole reason why I am able to persevere and continue on my passion.
TK: What was the inspiration behind Kreeo?
SA: My entire experience is in the areas of E-Learning, Knowledge Management and Analytics.  I had done an award winning KM implementation way back in 2003.  I wasn't satisfied the way KM market was defined and the way technologies were not able to deliver what was required.   Moreover, I am a patriot to the core, given the importance of managing knowledge in 21st century and the need for our country to lead the knowledge age, I realized the importance of creating an Indian company that could be a leader in the space and help enhance our country's competitiveness in times to come.
TK: How does Kreeo work? What is your business model?
SA: We probably are the only company whose business model  by design combines the consumer web and Enterprise business models, which traditionally were always separate.  www.kreeo.com is our free offering for individuals and Kreeo Enterprise (on premise implementation) is our offering for organizations to help them harness collective intelligence in their ecosystems and evolve to an Enterprise 2.0 by leveraging knowledge.
TK: Did you start off all alone or with partners? What is their profile like? What did each one of them bring to the table?
SA: I started alone but had a bunch of friends who helped by way of providing initial capital as investors and technology expertise.  They all are senior level people working with MNCs, another couple of friends who are co-founders were moonlighting for a year or so and then finally joined full time to take the company ahead.  One handles entire technology now and other handles PR, marketing and business development.
TK: How did you raise funds for your business and with how much of initial capital you started off?
SA: Raised initial capital of INR 20 lac from friends and family.  It was because of these friends that I could take the plunge and start off as they supported unconditionally and betted their hard earned money on my idea which they couldn't even understand fully.
TK: What were the initial hiccups when you started off in 2007?
SA: Given my plans the capital raised was not sufficient and in absence of VC money the biggest challenge was to create a working product and survive for at least 18 months.  As I was not an expert at technology and couldn't afford experienced people, so I learnt all required technologies myself and then spent a few months training freshers on the job to create my initial team and then in a years' time we created our Beta version of Kreeo.  As we started in 2007 end the recession came in early 2008 and the road ahead became even uncertain and challenging.
TK: In this era of information overload and with players like Google, MSN and Bing in the fray, how do you differentiate Kreeo?
SA: Google, Yahoo and Bing help find needle from a haystack whereas Kreeo works as a layer on top of traditional search engine model and acts more like a library where you can organize the needles once found in a more structured and semantic manner.  This helps in getting the best content from web through human filtration.  Besides this Kreeo provides new ways of expressing knowledge at a micro level (which doesn't exists anywhere as of now) like anyone can share their good practices, stories, tips, research etc .  Kreeo is not a search engine but a platform that helps is capturing the collective intelligence of people and helps them act as a collective mind. 
Search, bookmarking, wiki, folksnomy, publishing etc  are just features for us, our objective is to help in better discovery of content  and people to enhance online productivity  of people and enable them to create knowledge Just-In-Time(JIT).
TK: How do you define your market? What has been the response so far?
SA: Our market for consumer web is primarily knowledge professionals, academicians and students and for our Enterprise offering its all knowledge intensive industries primarily IT, BFSI, education, R&D.
The response is very encouraging especially of our enterprise offering.  We have been appreciated by intellectuals who understand the vision behind Kreeo and its applicability in today's time.  The challenge remains to simplify it for users (consumer web) and market it for mass adoption.
TK: What are your plans for your business for the coming 2 years now that the economy heading towards the boom phase?
SA: We have very aggressive plans for growth.  We are cash flow positive already with initial set of reference customers.  We are in a market which is among the hottest and offers ample opportunity for growth and establishing ourselves among the leaders given our differentiation and value proposition.  In the next 2 years we will be among the fastest growing startups with revenues in multi million dollars.