Changing Indian Trading
Rohit Gadia, CEO and Managing Director, CapitalVia Global Research Limited, turned his passion for stock market into his profession. He tells us how organised trading can bring about a radical change in the way India trades.
Tags: Rohit Gadia, CapitalVia Global Research Limited, SME Index, stock markets
BY Shailaja Mukherjee | January 15, 2013 | COMMENTS ( 1 ) |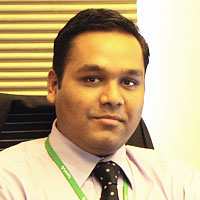 Rohit Gadia, CEO and Managing Director, CapitalVia Global Research Limited, turned his passion for stock market into his profession. He tells us how organised trading can bring about a radical change in the way India trades.
How can organised trading bring about a radical change in the way India trades?
Organised trading will bring seriousness in the trading and this seriousness will be the radical change. Like any other business, professional trading requires a right plan and its execution has to be done with an unbiased mindset. Learning trading skills is not difficult; the more difficult is to stick to your rules and be disciplined.
Therefore, trading is a serious profession like doctors and engineers, which requires full-time dedication instead of part-time. Our generation must look at the vast opportunities of this financial sector, which is an extremely vigorous platform in the present era where one must go for this trading profession solemnly.
When you started in 2008, global stock markets were preparing for a meltdown. What kept you going then?
Need for a consultant or professional advisor increases during the time of crisis because traders somehow manage to ride the bull markets well but to make profits from trading in bear markets they certainly need a professional who can understand the market situations. So, we observed the same thing during the time of crisis, those who always felt that they could trade without any advice was looking for advice during such crisis situation.
From a team of five to 550 now, what has been your success mantra to travel up the ladder?
People Management: I profoundly believe in people, so when our company grew, my set of challenges kept pace with it, then I realised, being an entrepreneur is easier than being a people's person but I learned to manage employees and their issues. I believe in empowering people and train them to an extent that they train and empower others later on.
Keep Moving: This is an aggressive competitive world; everyone is running for success, so my motto is to keep moving forward. If you cannot fly, you may crawl. This is what helped me to achieve this position.
Be Innovative: Innovation is essential for achieving high; therefore, I believe in bringing practical and strategic insights by making ideas tangible and realising opportunities.
In-house Technical Capability: We have an enriched and full-fledged technology in-house; in the company at every nook and corner we have an existence of technology. Therefore, technology is one of the key reasons for the success of the company.
Youth Power: We take pride in our rich, diverse, young and dynamic workforce. As the average age of the CapitalVia team is 26 years, this team power leads to company's growth every time.
And as I always says and follow – if you can't fly then run, if you can't run then walk, if you can't walk then crawl, but whatever you do you have to keep moving forward.
Bond trading and equity trading are popular vocations in the west. Is India also willing to invest money for trading tips?
As trading platforms have become so popular in India and everyone has some story about the other trader, people are looking to aggressively enter in markets for a source of income. They are understand the fact that it is better to look for a professional advice in the markets rather than hitting a shot in the air and risking their hard earned money.
How well are SMEs doing on the trade front?
The contribution of SME has always been significant for the growth of India. The contribution of SMEs alone has been greater than 7 per cent to GDP and 45 per cent to industrial production. The most important thing for the development of the country would be SMEs turning into large enterprises and that will be highly driven by the access to fund rising through equity.
Recently BSE has launched the first ever SME Index in India. Do you believe this would provide better focused and cost effective service to the SME sector?
Yes, definitely it is a very big and important move for SMEs. Initially, only debt financing from banks or non-banking financial institutions were the major option available with them to raise funds. Now they will be able to raise funds through equity and can play an important role contributing towards the growth of the Indian economy. This will also enable SME sector to be more effective in terms of technology and manpower which will ultimately improve the quality of the products/service and would make it cost effective.
What are your expansion plans?
I want to create a professional stock market trading environment in India based upon technical research input. The next on the platter is building CapitalVia as a trusted and lovable brand in next three years along with the physical presence in top 20 Cities of India in next 15 months' time period and introducing international operations in markets like Singapore and US in next 15 months.
Please add your comment
SAROJ KUMAR MOHAPATRA
January 26, 2013 at 9:18 am
I want to start Business, I have 7 years experience in the field of job, kindly suggest how can i start the business.
Reply |