By Women, For Women
She started her company when she was in greatest pain, suffering from the bereavement of her husband. She was hardly left with any saving. But Revathi saw the day light after the night was darkest. Today Forshe has branched out of Mumbai and is providing
Tags: Revathi Roy, Forshe, Exclusive ladies' taxi service, Mumbai, for women
BY Shambhavi Anand | October 28, 2009 | COMMENTS ( 2 ) |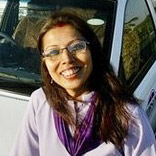 Revathi Roy
Founder, For-She Travels & Logistics
She started her company when she was in greatest pain, suffering from the bereavement of her husband. She was hardly left with any saving. But Revathi saw the day light after the night was darkest. Today Forshe has branched out of Mumbai and is providing services in Delhi also. It has plans to launch in Hyderabad, Bangalore and Kolkata. Revathi Roy, the founder of the exclusively ladies' taxi service in conversation with Franchise India Media.
Shambhavi Anand (SA): Tell us something about For-She.
Revathi Roy (RR): For-she is an exclusive Ladies Taxi Service driven by women, for women and families only.
(SA): How did such an idea occur to you? And how did you start the company?
(RR): I had a passion for driving and wanted to start something with that skill. I started the company and as the business grew we realized the requirement for such a service. Today I have an office, a team and uniformed drivers.
(SA): How did you initially fund your organization?
(RR): I funded the company with help from friends.
(SA): For-She is your second business venture. What was the first venture and why did you close it down?
(RR): I was into Distribution of UPVC windows. But I was not doing it with my heart. It was all done mechanically. It was just another job.
(SA): What challenges have you faced in bringing your company to this level? Was being a woman also an obstacle?
(RR): Challenges are something that one faces everyday, especially for entrepreneurs. However, being a woman was not an obstacle for me.
(SA): Did you at any point of time want to give up? What stopped you from giving up during the frustrating days of running your business?
(RR): I am passionate about my venture and have never felt like giving up.
(SA): Do you have a role model?
(RR): Eleanor Roosevelt, the former first lady of the United States is my role model. She worked to enhance the status of working women. I also want to empower women through For-She.
(SA): What, if any, advice do you have for new entrepreneurs, especially women?
(RR): Stick to what you are doing. Don't give up. Believe firmly in your product, your passion and yourself because nobody understands your product better than you.
Please add your comment
Diane
August 06, 2013 at 10:03 pm
I checked out Riya at TagCamp last month a live Demo. Was cool to watch evhertying. Even met and had a chat with those folks. A jovial bunch!And the product also is pretty neat with a flickr like interface. It may be rumours. but I am sure its in lines of google thing of affairs. Picassa + blogger + Riya => would be a nice combo!
Reply |
anonymous
November 29, 2012 at 12:54 pm
I have known Revathi for the past few years. She has a great entrepreneurial spirit. But with this comes the risk taking. She is very good at public relations but not too good with money management. Overall a very nice person.
Reply |