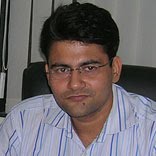 If you want a Loyalty Programme and Card System but do not know where to get the technology, Unit Solutions will show you the direction. In a candid chat with us, Nikhil Dhoka, Director talks about his business and how it is making a difference to SMEs and others.
Seema Seth (SS): Tell us about your company? How did it all begin? Do you have a partner or a co founder?
Nikhil Dhoka (ND):  I was working with a major retail company (Reliance Retail) and managing their loyalty programme system. I started with loyalty card and then prepaid card. See, I have a partner, Kaushal, who joined us 6 months back. I started it alone in August 2009.
SS: What are your products?
ND: Our products are Loyalty Programmes and Closed Loop Prepaid Cards. We target SMEs retail sector's Loyalty System. We also have Gift Card and Prepaid Card Systems. Gift cards are like gift vouchers but more elegant and we convert them into debit cards. The customer benefits as he gets extra benefits for his money and the shop gets lock in customers.
We have Closed Loop Cards and Semi Loop Cards currently and working on Open Loop Cards.
SS: Who are your target customers?
ND: They are SMEs with say 10 or 15 stores. We also have some big brands. Currently we are focusing on apparel and food market.
SS: What's your turnover?
ND: It is 15-20 lakhs per month.
SS: How was the experience of building the first team?
ND: The experience was good and I learnt gradually how to keep them motivated, interested and with the company which was pretty challenging.
SS: How are you scaling up the business?
ND: First we are hiring more people, because the more people I have, the more sales I will have. We are also trying to give out franchisees. We are targeting Poona, Delhi, Ahmedabad and some other cities.
SS: How do you deal with competition?
ND: Our business is more advanced and our products are very mature and we are very very ahead of our competitors.