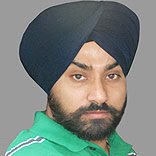 Maninder Singh Sethi, the Founder of Excelsior Public Relations always wanted to leverage various mediums to market and advertise a product, which he couldn't do as a professional in the print media. Eventually, he realised that the only way to fulfill his wish was to start his own venture.
Harmit Singh (HS): Tell us about Excelsior Public Relations?
Maninder Singh Sethi (MSS): Excelsior Public Relations is an integrated marketing communications company, which provides the services of advertising, event management and Public relations. We engage in marketing activities mainly for the electronics companies. We also host events for brands like Sony, Samsung and others.
HS:  Why did you choose to get into this business of event management and marketing for other companies?
 MSS:  I am from a media background and have worked with companies like Hindustan Times and The Indian express in their advertising department.  I have always been interested in advertising and did not want to confine myself to advertising in print media only. To expand my horizons in all possible avenues and to all mediums, I planned to create this advertising, marketing and PR company.
HS:  Which companies do you target as your prospective clients?
MSS:  We currently work for electronic companies like Sony, Samsung, LG Electronics and others. We have experimented a lot and done many pilot projects and from the next month we would specifically target the companies, which are into producing luxurious goods. We want to be the first company that would cater only to this segment.
HS: What was your previous occupation?
MSS: I have previously worked with media companies like Hindustan Times and The Indian express
HS: How did you do the initial funding of your business?
MSS:  I could not get funds from the banks as the banks in India do not provide funds to a service company. The funds were mine and a little were provided by my family. As I am from the service industry, I used finances wisely and I ensured smart rotation of the same.
HS:  How do you differentiate yourself from others in the same industry?
MSS: I take my competitors seriously and strongly believe that the company would perish if it is not open to change. One has to keep himself and his company updated. I feel that we am different from others in the sense that we look forward to something new and different every time. Other companies do not have this vision.
HS: What challenges did you face when you started?
MSS:  The biggest challenge that I faced at the start was that I was not able to understand the intricacies, technicalities and details of the business as I do not belong to the business class. To stand out on our principle was another challenge. But we slowly overcame it as we worked with our brands with full honesty and I am glad that our principles are now paying off.
HS: What are your future plans?
MSS:  As I told earlier that we are looking forward to serve companies that are into producing luxurious goods. This is our resolution for the New Year.
HS: What advice would you like to give to entrepreneurs?
MSS:  I have always trusted freshers as I believe that these people are really flexible and I would like to advice startups to experiment with them. I would also like to advice them to never give up. Businessmen owning start-ups, now-a-days, leave hope very early. They should believe in the fact that problems are everywhere and nothing is impossible. They must have faith and confidence.