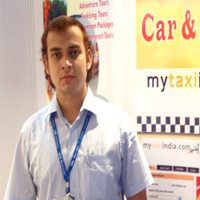 Having the largest taxi rental network across India and with presence in more than 100 cities and connectivity with 48 airports, MyTaxiIndia has become the preferred choice of Indian travellers. In a tete-a-tete with Entrepreneur India, Anshuman Mihir, Founder & CEO, MyTaxiIndia, shares his motive behind starting MyTaxiIndia, how he is planning to gain competitive edge over others and his future growth strategies.
What was the main motto behind starting MyTaxiIndia?  
MyTaxiIndia was started in the year 2011 with the sole mission to provide the travellers a hassle free experience. Witnessing the unorganised car rental market, where lack of transparency was a major setback for the customers, we sensed the need of such a car rental company which can become a single stop of all the commuters who wish to hire cabs easily, be it any part of the country.
What's the USP of MyTaxiIndia?
When it comes to booking train tickets, then the first thought which comes into our minds is IRCTC. Likewise, there are many renowned portals at present that have become the sought after alternative for many customers when it comes to flight and bus ticket booking. But, the Indian travellers are still in need of such a portal that can offer pan-India taxi booking and which actually delivers what it promises.  This is what MyTaxiIndia has planned to aim, since its inception.
What is the target market of MyTaxiIndia?
With the services cantered to the metro cities alone, many major taxi rental companies are still outside the reach of the common herd. This predisposition towards the metropolitans is what we are trying to curb. Hence, we offer the cab booking facilities in Tier 2 and Tier 3 cities like Kanyakumari (Tamil Nadu) and Gangtok (Sikkim).
How MyTaxiIndia's service offerings are different from other car rental companies in the market?
At MyTaxiIndia, we aim to modernise every aspect related to car rental. With the goal to provide the passengers 'a home like experience' even when they are heading for their destinations, we offer cabs which are well equipped with some basic amenities such as mineral water bottles, newspapers, tissue papers and first aid medical kits. Further, we are also planning to integrate Wi-Fi internet in our entire fleet of taxis, quite soon.
What is your future growth strategy?
MyTaxiIndia has a fleet of 7700 plus modern cabs which are available all across the nation. To intensify our reach further, we are planning to attach 2000 more cabs, by the end of this year. In order to expand our reach to various other untapped parts of the country, we are also looking to raise funds in the next six months. We aim to reach Rs 40 crore in annual turnover in the current fiscal.