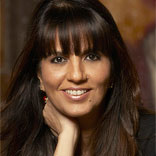 Since the last two decades, Neeta Lulla has been creating magic with her designs; proof of which can be traced in 350 movies that she has done so far. Interestingly, the designer has each time broken her own record to create a new one. From simple to royal, her designs speak volumes of her passion for this craft. Neeta spoke to Taslima Khan on the art.
Taslima Khan (TK): What is your take on the art of fashion?
Neeta Lulla (NL): Fashion is an art which if desired by the artist has limitless creative possibilities. Like every other creative form, this art form too has best results when the thought process comes from within (heart or emotions).
TK: Where do you draw inspiration for your designs from? 
NL: I draw inspirations from several thought processes which could be topics or even visuals that touch my art.
TK: What is the current size of the fashion industry in India?
NL: As per recent reports, the Indian fashion industry is estimated at a mere 1500 crores. However, the industry is growing rapidly by leaps and bounds.
TK: What are the latest fashion trends you are witnessing?
NL: The mindset of the people towards trends has changed considerably. Trends are not being followed merely as trends but are being limited to consumer's personal style statements as well.
TK: Amidst all the competition in the market, how can new designers carve a niche for themselves?  
NL: In fact, with the kind of market today, it is very easy to carve a niche as I have stated in my previous answer. People want to dress in a manner which enhances their personal style statement. For e.g. if a woman is a housewife, she would like an elegant look for her formal wear and for some it may be corporate look. She definitely requires power dressing as the core essence of her style. So, this way, the consumer wants their niche styles to be catered to, thus enabling designers to create and carve a subsequent niche for themselves.
TK: What initiatives are required to bring the Indian fashion industry at par with its western counterpart? 
NL: There is a need for careful guidance to the fashion fraternity of various vocations in the fashion industry and also a need for strong infrastructure and financial support from corporates.
TK: It must be a tough call, juggling Bollywood commitments and NSL Fashion Pvt. Ltd. What has been the biggest challenge so far?
NL: No, it has not been a tough call at all since, NSL Fashion Pvt. Ltd is the holding company which provides the infrastructure for my films, retail and uniforms business. Hence, it's not much juggling since we have established teams to cater to the various businesses.
TK: How far have designers and retailers benefitted from fashion shows?
NL: The right selection of fashion shows plays a very useful hand in establishing the presence of a designer in different markets.  Also, the right kind of clientele for couture does come to such fashion shows hence it provides a good platform for designers to showcase an entire offering to all potential clients on a single platform.