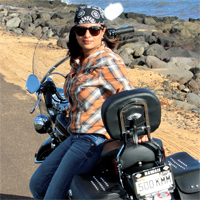 Ambika Sharma
Founder and Managing Director, Pulp Strategy
Entrepreneur India brings to you 'The Other Side' series giving you a chance to look into the interesting and creative side of some well-known faces, entrepreneurs, top honchos and eminent personalities from the corporate world.
Ambika Sharma, Founder and Managing Director, Pulp Strategy
A thorough bred marketing professional with an experience of over 15 years in the new age marketing and brand activation industry, this Ex COO of Jagran Solutions took the road less travelled and formed Pulp Strategy. Ambika Sharma enthuses zeal and passion whether it's running her start-up or her bike. In a quick chat with Entrepreneur India, she showcases her love for bikes and her creative streak.
Taking the Untravelled Path: The need to be able to create a culture of innovation and agility was the driving force behind the decision to turn entrepreneur. It is also true that we are possibly the last generation who will see the opportunity growth and readiness that India presents.
Most Innovative Marketing Work: The most innovative is yet to land, but the programme that really stands out for me has been the campaign "Learn with Yahoo" for Yahoo India. Not only did it wrangle every bit of energy, creativity and coordination from us early on as a young agency, but the results it drove hold a place of pride in my heart. The campaign also won us a Globe.
The Take Charge moment: It began in August 2011 and it is yet to end.
Best bike ride was to: Delhi to Kanyakumari this January
Passionate about: Living each day to its best possibilities
Dream machine: My Harley Road King.
Favourite book: Roots
Brands I swear by: Google, Intel and Apple
Favourite holiday destination: The isle of Kauai in Hawaii
Riding is all about.. Being completely at ease with your surroundings and at peace with your machine.
Professional mission: Innovate or die
Personal mantra: Everyone gets just one life, live yours every day!