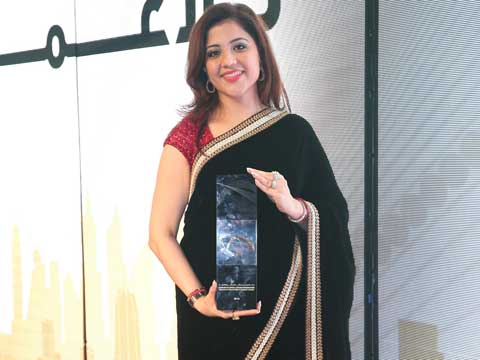 Vandana Gandhi, who has made India proud by becoming the first ever Indian woman to receive Dubai Government's coveted Mohammed Bin Rashid Al Maktoum Business (MRM) Award for business excellence and outstanding achievement, is the Founder and CEO of UAE's largest nursery chain – British Orchard Nursery. She is versatile personality with interest in creating stimulating surrounding and interesting concepts for young minds. In conversation with Entrepreneur India, Vandana Gandhi discusses about the British Orchard Nursery's educational model and proposed advent in India.
How do you see India's early education market shaping up in the days ahead?

Indian education market has done well in the past decade, however there is a long way to go to reach international standards and be at par with developed countries like US and UK, where there are lots of stringent norms for inspection.
UAE is also following suit with inspection norms and guidelines with regards to curriculum, facility requirements, and safety, health and environment requirements. So whilst few of these aspects are being followed by some providers in India, many are not being followed by majority of them. This is where India should look at enhancing the stringent norms.

What type of curriculum should be designed by the educators to provide high quality of early education to younger ones?

Curriculum choices are many, as internationally each country has a curriculum. However at the pre-school level, it is through a play-way method – you have different aspects of Montessori, British Curriculum, the Reggie Amelia approach, so different countries have come up with different curriculum, but they all have the common ethos and philosophy of learning through play.

So the curriculum approach can be taken from any of the countries – standardised ones or developed. However, looking at the criteria that all aspects of the child's learning should be met such as the numeracy level, the social emotional development and the physical development – if we can incorporate all aspects in the curriculum and have rigorous assessments, and look into each child's learning and mapping – then that would be great. This is what we do at British Orchard in UAE.

What are the major issues plaguing the sector which needs immediate attention?

I am not too sure about the issues plaguing the system. However, what we can do in India is to enhance inspection levels and the framework for health, safety and security environment for children. 
By using innovative methods, how does the British Orchard contributes in providing high quality of early education to the younger ones?

We take pride in mapping each child with learning and assessment to the planning and curriculum and a researched and developed curriculum model which allows us to assess the child on nearly 700 points over the child's tenure of 3 years in pre-school. This is rigorous in terms of the quality of care that we provide. We also assess and make sure that the parents are involved in the children's learning, and we take pride to know that the children have learned the objectives that the teachers initially started out with.
According to you what is USP of your pre-school concept?
The pre-school concept incorporates the British National curriculum in the UAE. We integrate the local requirements of the Arabic Language and other governmental branches like Islamic studies and value education in our other branches. We are the first providers of a children's gym, and the first to be ISO qualified including health, safety and environment.
We take pride in individual child assessment model – we take pride to be sole providers for it in the Middle East, and that's how we have the largest chain of nurseries here. We have been awarded multiple awards – four international and five national level awards along with other ministry certificates and accolades for our innovative curriculum, our innovative ideology for physical development through gyms and health, safety and environment as well.
Share your current presence? What expansion model have you adopted to extend the brand's presence?

We have 14 branches in UAE, including Dubai, Abu Dhabi and Sharjah. We are looking at franchising, joint venture and partnership routes with like-minded individuals, who value quality education for the Middle East and India.
You have also introduced and conceptualized first of its kind Gym Juniorz within the curriculum, so what are its benefit in the child's holistic development?
We employ British certified gymnast coaches, who are certified with the British Gymnasts Association in the UK. We help children develop motor skills, hand-eye co-ordination and gymnastic abilities, which help children to be physically better and fitter and have confidence in themselves. For them, growing up is more fun when they have a fun way of learning with a gym involved and activities with the gym. This helps in the overall development of a child in a very wholesome way. When it is certified by British Gymnast Association, we know that the curriculum, the methodology and the exercises are coordinated to help young child develop.
With which city/state do you plan to mark your India entry?
India is a beautiful country. It is always nice to provide value back to your home country. We will definitely look at like-minded partners, who have quality in their mind, before any other requirement. All of India's cities are growing to a point where good quality early education is required. I wouldn't point a city at this moment; I think any city in India is geared up to have quality early education.
What's the total investment, upfront cost and royalty, required to buy your franchisee?
The franchise model is the master franchise route or individual franchise route. We are very selective in the process with zonal franchisees, joint ventures if we need to go with them. At this point, rates and requirements vary with zones, cities and demographic populations. There is no one size fits all. There is a huge opportunity for any city to have good quality early education. Some cities have different requirements, and so based on each requirement, things change. We are open to both – tier 1 and tier 2 cities and will look at it as time comes. At the moment, we are looking to expand internationally – GCC and abroad.