Indian Legacy of Online Shopping
Thirteen years after they set sail into uncharted waters to become India's first e-commerce company in 1999, it is now that the segment has kicked off in the country. K Vaitheeswaran, Founder and CEO, Indiaplaza, talks about his journey as an entrepreneur
Tags: Indiaplaza, K Vaitheeswaran, e-commerce,
BY Saniya Seth | January 15, 2013 | COMMENTS ( 0 ) |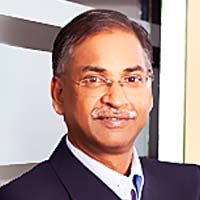 Thirteen years after they set sail into uncharted waters to become India's first e-commerce company in 1999, it is now that the segment has kicked off in the country. K Vaitheeswaran, Founder and CEO, Indiaplaza, talks about his journey as an entrepreneur and what tempted him to start the trend of online shopping.
How did the concept of Indiaplaza come into existence?
While working on a project, someone suggested me to use an Internet e-mail id. I had no clue what the Internet was and required some assistance to create my id. While using the Internet, I came across an advertisement that urged me to buy books on the Internet. I clicked on the ad and landed on the site amazon.com and spent many hours there. I was fascinated by the concept of shopping on the Internet and selling products to customers worldwide. In June 1999, when I got an opportunity to do something on my own along with some friends, I co-founded India's first online shopping company.
How did you get funding?
To be honest, we did not struggle for our angel funding. We had a good team with solid backgrounds. This helped us a lot for initial funding. We were in a greenfield venture, and hence, when we started, we had no idea how to run the business. As we grew and developed our strategy, the processes followed.
What were the initial challenges you faced and how did you overcome them?
When we launched India's first online shopping site, there were less than three million people on the Internet in India and hardly 20,000 customers shopped online (today these numbers are 100 and seven million respectively). We faced challenges like getting vendors and brands to agree to sell online. We started selling music cassettes online. I personally met the sales and marketing heads of music companies in Mumbai and Chennai requesting them to give us the content for our site. They were amused and had no idea what I was talking about. Getting employees to join us with hardly anyone understanding the concept was a challenge. Getting customers to transact online was another challenge. All our friends wished us, but when it came to shopping online, very few actually were open to give their credit card details.
What are your current challenges?
I think our major challenge is to stay calm and do not get caught in the madness trying to match everyone else in terms of wildly acquiring customers at below cost and to continue to build a business with focus on how to make money.
At present, our main challenge is to take customers, who are shopping today at Landmark and Shoppers Stop, to the online space.
How is Indiaplaza different from others?
Most companies who are new to e-commerce suffer from this myth that all they need is a website and customers will transact. This is not true at all. A lot of hard work and analysis is required to gain the trust of customers and build an online brand. We have done this successfully, and that is why, our website sales and traffic continue to grow significantly.
What are your current marketing strategies amid stiff competition?
We are currently working on search engine marketing. Considering our catalog size of more than 10 million products, we have a scalable strategy in place. We are testing Facebook advertising and display networks. Every week, we have deals with unmatched pricing. Not surprisingly, our e-mail open rates have more than doubled. We have even sold books at Rs 1 and have given away 8 GB pen drives free with 4 GB ones. SEO is a major traffic area for us. We consistently rank in the top three search results for our key categories like books and mobiles.
How has e-retail evolved over the years?
After 13 years of India's first e-commerce company, e-commerce is finally happening in India. The Internet population has crossed 100-million mark and around seven to eight million people are shopping online.
Like any new industry that is growing very fast, e-commerce is also attracting a lot of entrepreneurs and investors. Nowadays, more people are shopping online from Meerut and Mysore than Delhi or Bangalore, indicating deep Internet penetration and also the power of selection and pricing that Internet retailers offer. Scaling the business is no longer an issue. The challenge is how to reduce the cash burn cut losses and see some visibility of profits in future. Many e-commerce companies are selling items below cost and acquiring customers at high costs. The logic here is that the lifetime value of these customers will help them recover high acquisition costs and become profitable − a theory that is yet to prove.
What are your expansion plans for the next decade?
The plan for the organisation is to keep expanding selections across all categories, significantly elevate the technology platform, build brand awareness of Indiaplaza and maintain leadership position in the industry.
Where do you see the e-retail segment in the next decade?
E-commerce is here, and it is happening. There is no going back now large number of offline retail chains will enter e-commerce. This will trigger the growth of this industry. Mobile commerce is expected to take off but that is at least a few years away. Right now, most mobile transactions are restricted to ticketing.