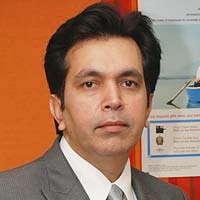 Manoj Adlakha
Vice President, Global Corporate Payments American Express India
Manoj Adlakha, Vice President, Global Corporate Payments, American Express India, shares more on that in a conversation with SMEntrepreneur.
How does the Corporate Card Program help growing businesses?
The Corporate Card Program for mid-market corporations was set up in 1998. American Express helps mid-sized and large companies manage purchases of travel and entertainment (T&E) and other business expenses such as office supplies and professional services.
One of the challenges mid-sized corporations face is managing expenses effectively and this obstacle can be overcome with the assistance of a payment instrument that consolidates all purchases onto one card, thereby cutting down multiple payment transactions and associated administrative time and cost. A mid-sized corporation with an effective use of corporate card program can save up to 9 per cent on T&E expense, which has a direct impact on their bottom line.
What are the benefits of the Corporate Card Program?
The Corporate Card Program offers unique benefits, specially designed to serving the needs of mid-sized organisations and their employees:
· Maximise business savings, reduce costs – Many mid-sized corporations do not, on their own enjoy volume discounts for everyday business expenses and business travel and entertainment. Companies like American Express can leverage their brand, service capability and partnerships with vendors and this can help drive substantial savings for these mid-sized corporations. This can be done by consolidating spends with select partners (hotel, airlines, car rentals, etc) and using business-to-business suite of online expense management solutions that enable them to drive effective supplier strategies, monitor compliance and streamline business processes.
· Liability options – The Corporate Card Program provides various liability options as well as user-defined spend controls and limits, that help companies control their expenses and protect them against potential misuse of the card by their employees.
· Insurance and rewards – With the Corporate Card Program, card members get comprehensive protection including business travel accident insurance and travel inconvenience insurance. This is not only a great benefit for employees, but also is a great saving for corporations.
· Convenience for employees -Through the Corporate Card Program, card members have the ease to manage their account online and get access to 24 hour emergency card replacement, Foreign currency exchange, cash access and access to doctors and lawyers, basis their needs.
How can companies save costs by adopting the program?
As mentioned above, the Corporate Card Program gives access to India's mid-sized corporations to the kind of buying power that is usually only available to much larger corporations. Mid-sized corporations by consolidating their spends with a few selected partners like hotels, airlines and car rentals can avail a range of discounts that can work as direct savings on the company bottom line. For example, with the American Express Corporate Card a mid-sized company can avail corporate rebate of up to 15 per cent on total annual spends across all business properties of Taj Group of Hotels, discounted rate of 12.5 per cent on car rentals with CarzonRent apart from other benefits.
How many businesses have adopted this program so far?
We will like to point out that as a leading issuer of corporate payment solutions, we serve more than 70 per cent of the US Fortune 500 companies globally, and tens of thousands of mid-sized companies, across sectors worldwide.