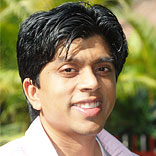 Faisal Farooqui comes from the new crop of young Turks who dare to be different. In a chat with us, he talks about his successful company, Mouthshut.com, the journey that has been so far and their future plans.
SS: Tell me about yourself, what was your previous profession and how did you think of coming into this business?
FF: I had just finished my degree from State University of New York and was working in a telecom consulting company. Right from childhood I wanted to start something of my own- I always dreamt of owning my company and as my interest in computers developed further- I realized Internet and IT was my natural calling. The entire concept of MouthShut.com began to evolve in my mind while I was taking a class magazine writing at my university in the United States. The concept of reviews almost appeared serendipitous to me. Amazon.com was doing book reviews. I thought it would be a great idea to extend this concept to other products besides (and including too) books. Today, MouthShut.com has more than 400,000 products listed, across categories, verticals and industries. All of these products have unbiased reviews written on them by average consumers.
SS: What role did your family play in terms of supporting you?
FF: Like most Indian families, my family debated my desire to quit my job and start on my own at such a young age. But once convinced, I received all the help in the world from them!
SS: What is your company's full name and what is your product range?
FF: MouthShut.com is a consumer social network. It is a platform for consumers to share their views on products and services with other fellow consumers. The idea is to help others with your experience.Today, MouthShut.com has more than 400,000 products listed, across categories, verticals and industries. All of these products have unbiased reviews written on them by average consumers.
SS: How did you fund the business initially?
FF: It was self- funded from some savings from my job. Besides, my family helped me with funds required to pay salary to the dedicated and hardworking employees that I had!
SS: What challenges did you face in establishing your business?
FF: Again, I wouldn't like to call them roadblocks - challenges would be a better way to look at it.
Challenge No 1To convince myself: I was in a well-paid job which looked after my bread and butter, also the jam. To quit a comfortable and well-paid job was not easy. I had a word with myself and tried to understand whether what I thought to be a dream was not a mere infatuation. When I was convinced, I took the plunge. Also, do remember that your lifestyle is going to undergo a dramatic change. Initially you may have to put in 18 hours every day without a Sunday or week off. If you are an introvert, be prepared for those innumerable coffee meetings, lunch or dinner meetings and if you are an extrovert be sure you do not reveal all your cards. Your business is bound to consume all your energy, so when you decide to convince yourself, be prepared for all these factors.
Challenge No 2To convince the family: I come from a very close, well-knit family where everyone is concerned about the welfare of the other. Convincing my family was the next big challenge. I was sure of myself, but were they? Not really. So instead of getting into prolonged debates, I quietly came back to India while members of my family were waiting for me at the dinner table in US.
Challenge No 3 Getting the Infrastructure: Getting the infrastructure, office, logo designed, company registration etc is no mean task. If you hail from a family of entrepreneurs then avail their guidance. Your business is your idea. Do not get into areas which are not your focus. Ask others to pitch in around you; do not navigate on your own. Be focused on your main idea. I did just that. Since I hail from a family of entrepreneurs, I got in their help and concentrated on what I knew best - building the business brick by brick.
Challenge No 4Building the right team: And by the right team, I do not mean just in terms of skills, experience and qualification. I needed people who would believe in my dream. I did not possess a swanky office to begin with. It was a modest one room office with a small bulb to illuminate just enough when I hired the first engineer. His only question to me was "Would you be able to pay my salary month on month?" I nodded and he accepted the offer. Today he is still around and so are some others. It's not enough for an entrepreneur to dream all by himself, it is important for him to have his team dream and live the same dream. 
Challenge No 5Doing a great job: You don't need to be Einstein to know this. But all my energies were devoted in making MouthShut.com a world-class consumer platform and despite the limited marketing budgets; my team and I just swam against the tide. 
SS: What is your marketing strategy?
FF: We invented the medium of autorickshaw advertising. It was something that we conceived and rolled out on few rickshaws in Mumbai. With positive feedback flowing in, we started painting the backs of rickshaws in major Indian cities with our logo!
Word-of-mouth was very effective for us, since we focused on a very unique offering- the opportunity for the average Indian to be heard, on a public platform!
SS: How are you planning to scale up your business?
FF: We have a dedicated technology, marketing, sales and IT team. We work hard and the business is now profitable. Our growth is fuelled by our effective team and careful spending.
SS:  What is your product's USP?
FF: We are the largest platform in Asia for consumers to write about any brands. Brands respond to complaints, suggestions, and feedback on mouthshut.com immediately.
SS: Where do you see your company 5 years from now?
FF: Amongst MouthShut.com's biggest achievement is that it started a debate by consumers on brands and the fact that the feedback mechanism has been accepted by consumers and brands alike MouthShut.com is the first choice of consumers looking to voice their opinions on products and services. The reviews written by the end-users are taken into serious account by brand managers who scout the web site for honest opinion and feedback. MouthShut.com continues and will continue to play a decisive role in the lives of consumers.