For love of Crafts!
Laila Tyabji started Dastakar with the objective to make craftspeople successful entrepreneurs. Here, she talks about her business, her products and the future plans of her company.
Tags: crafts
BY Seema Seth | July 28, 2011 | COMMENTS ( 2 ) |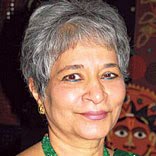 Laila Tyabji
Founder, Dastakar
Laila Tyabji started Dastakar with the objective to make craftspeople successful entrepreneurs. Here, she talks about her business, her products and the future plans of her company
Seema Seth(SS): Tell us about your company? How did you conceive the idea of this business?
Laila Tyabji(LT): Dastkar is not a company and nor are we a business! In fact, our objective is to make craftspeople
successful entrepreneurs and business people.
We are a not-for-profit NGO that works for traditional Indian craftspeople – many of them women and village based. Six of us, all professionals working in different fields, came together 30 years ago, to try and realise the potential of India's millions of craftspeople. They had great skills but were getting increasingly marginalised as markets became more urbanised and sophisticated.
Working in 19 states of India with more than 200 crafts groups and approximately 30,000 artisans, Dastkar is the link between the rural craftsperson and the urban consumer, helping both sides realise the potential and needs of the other. Capacity building workshops, skills training, design and product development are the means of transforming traditional skills into products that have a contemporary appeal and make them a source of employment and earning.
SS: What are your products? How are they priced?
LT: Dastkar works with literally thousands of craftspeople and constantly adds new groups and skills to its family. So the product range goes into thousands as well. Items range from apparel and home furnishings, furniture and accessories, jewellery , folk art, gift items, footwear, decoratives, games and toys….. You get a traditional sari but also a funky contemporary embroidered .backpack. Materials range from terracotta to brass and copper, tussar silk to khadi. Prices are equally varied – you can find something for ten rupees, or an exquisite one-of-a-kind piece for ten thousand!
SS: Who are your target consumers? Which cities have you covered and in which countries are you exporting?
LT: The Dastkar Bazaars and exhibitions attract people of all ages and kinds, especially India's young new middle class consumer. Delhi, Mumbai, Pune, Bangalore, Chennai are our regular beat, but we also explore smaller cities such as Chandigarh, Lucknow and Hyderabad. In each city, we have a mail list of thousands and a regular clientele of exporters, NRIs, diplomats and expats who count on Dastkar as a brand name for quality craft from genuine producers. Dastkar does export to customers all over the world but our main focus is the Indian urban retail market and customer. Export is only the icing on the cake, generally specially designed orders to high-end customers looking for something exclusive, handmade and special. Dastkar acts as a catalyst among the buyer and the crafts person, coordinating the whole process from sample development to shipment. Buyers include Germany, Japan, Italy, Australia, the States, and UK.
SS: What are your marketing and promotional strategies?
LT: Dastkar's objective is to bridge the gap of awareness and interaction between the craftsperson and the consumer without the intervention of government agencies or commercial middleman. A key tool is bringing the artisan face to face with his market, to provide a first hand experience of the needs, taste and trends of todays urban consumer.
The most effective way to achieve this is through market information and the Dastkar Bazaars and Exhibitions, where customers and craftspeople interact directly and learn about each others needs and potential. Bazaars are preceded by a media campaign, with press releases and interviews given to leading print and electronic media. Attractively designed cards and info leaflets are sent out to a mailing list running into thousands in each city, and hoardings, posters, banners put up in prominent locations. The colourful ambiance and display of the exhibition itself is a crowd puller. Emailers, FaceBook and the Dastkar website also inform on-line customers of the event.
SS: What is the USP of your products?
LT: Dastkar products are known for their authenticity and the waythat traditional handcraft and handwoven skills have been subtly converted into stylish contemporary products of everyday use. Customers also like the fact that they can buy directly from the producer, and that their money goes back to the maker rather than middleman.
SS: Who are your competitors?
LT: We were the first to hold craft events where Craftspeole sold their own produycts directly to metro customers. Other organisations now follow Dastkar's original lead in holding crafts bazaars, but no one works with as many craftspeople in the same hands-on way Dastkar does. Design innovation, genuine grassroots craftspeople, and the look and character of the event itself is different.
SS: What services you give along with the product?
LT: Dastkar's primary aim is to support the craftsperson in whatever way required. Some of the services we provide are:
Identifying appropriate markets
Building craft communities
Organising workshops and training programs
Sampling, production planning & product development
Information sharing and networking
Consultation and strategy development
SS: What kind of R&D are your taking?
LT: We do informal market surveys and customer feedback, and a regular analysis of the sales figures of each group form the base of the next year's planning and development.
SS: What are your future plans?
LT: Crafts is something that nurtures us. It is a part of our culture, aesthetic and economy. In the coming years Dastkar's resolve is to see it survive. As society changes, craftspeople will have to adapt changes too. Dastkar is here to shape and assist this process. Mapping the right directions into the 21st century is Dastkar's next, most important task. More value-added products, e-marketing, on-line sales on our website , maybe a even a mall exclusively for crafts owned and run collectively by our crafts groups cooperative, are ideas we fantasise about.
Please add your comment
Sabzar Ahmad Bhat
September 28, 2011 at 1:39 am
Hi, I am from kashmir involved in handicraft business,cud you please help in promoting my business. i also want to know more about your organization. Thanks & Regards, Sabzar Ahmad Bhat
Reply |
swetha reddy
September 09, 2011 at 11:04 am
I know few people doing Pickle business will you be able to help them out •Identifying appropriate markets •Sourcing raw materials •Building craft communities •Organising workshops and training programs •Sampling, production planning & product development •Skill upgradation •Pricing and costing •Documentation •Marketing •Information sharing and networking •Consultation and strategy development If yes. pls share your contact no
Reply |