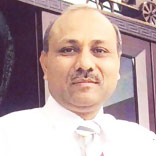 Powered with a strong network of 1200 nationwide destinations. Agarwal Packers has been making shifting simpler and easier for people.  
Franchise India(FI): What is the startup story behind the venture?
Ramesh Agarwal(RA):  While serving in Air force, I had to move from Chennai to Srinagar in 1980 and was posed with the daunting task of packing and moving all goods on my own. When I narrated this experience to my younger brotherRajender Agrawal, who always dreamt to be in the logistics industry, it then became not just an experience sharing but an insight on which his dream was to be built. Hence, Agarwal Packers & Movers Pvt ltd. came into existence.
(FI): What exactly are the services you offer? How do maintain an edge over competitors?
(RA): We have been offering relocation services pan India, making shifting simpler and easier for people who earlier used to panic with the thought of shifting.
We have a strong network of 1200 destinations nationwide, fully computerized as well as networked branches, well-trained professionals with expertise in all aspects of relocation. Our 20 lakh square feet warehouse lends lends us an unbeatable advantage. Besides, a well maintained fleet of 800 vehicles, 24x7 customer care services, international standard packing materials and techniques and strong research and development department provides us complete knowledge about the ever changing customer needs.
We have a strong training department that trains all personnel of the company.
(FI): How did you fund your business?
(RA): We started the business with a paltry amount of Rs 3970 which was borrowed from a friend's mother.
 (FI): What is the biggest challenge you have faced so far and what was the strategy to deal with it?
(RA): The Biggest challenge has been to deal with the people who tend to work with duplicate names thus tarnishing the reputation of the company.
To overcome this, the company has now taken a Single Country wide no. 6001 5001 which cannot be duplicated by anyone. Thus the phone number used by the company has now become a brand in itself. Now wherever the company's name is being highlighted the phone number is also highlighted in the same way.
(FI): What are the key marketing and building strategies for your business?
(RA): The Company is doing extensive BTL and ATL activities to promote the USPs of the Company. We have also started our ingle country wide no. 60015001 which is very catchy and can be easily remembered by all.
We also have a corporate membership card scheme which allows a client to avail attractive discounts on second shifting and will be valid for 5 years from the month of issue of the card.
(FI): What is your growth plan for the next coming 3 years?
(RA): The Company plans to expand its self owned branches from 52 to 200 in next 2 years and then to all the 634 districts consecutively and to expand to1000 Company  Owned vehicles out of which 200 Vehicle will have foam coating inside for Better care of Goods while shifting . These will be named as "Special Double Door House Hold Carriers"