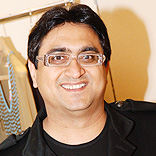 With impeccable business acumen, Kimaya is today recognized as one of the high-end fashion boutique that not only instills the couture culture in its customers rather it has been successful in bringing the world's best fashion labels to India. Pradeep Hirani recalls his voyage
Amanpreet Kaur (AK): What business were you into before getting into the fashion retail arena?
Pradeep Hirani (PH): If I rewind six years back, I remember the Indian fashion industry, as being fraught with a chaotic retail environment and lacking discipline. There was tremendous scope for instilling a touch of professionalism in the industry. To infuse business acumen beneath the sheen of couture, reaping rewards for designers and of course for the client, Kimaya was born. The philosophy behind the concept was to make the business of fashion its forte and that has been our endeavour always.

Before the launch of Kimaya, I was in the garment export business, but the potential in the Indian fashion industry beckoned me. I found a virgin market, ready to explode. The fulcrum of fashion was pointing towards India.

AK: You earlier set up an export house in Dubai and later moved to Mumbai. Tell us about this move. 
PH: I did return to Mumbai after running an export house in Dubai, even that experience gave me an exposure of another kind. The reality is that, beyond a point of time, the export business becomes monotonous, it though yields sufficient returns. There was no lure and appeal left in it, while the Indian shores with a penchant for fashion appeared inviting me. 

AK: How do you see the fashion luxury retail business evolving in India? 
PH: I am of the firm belief that luxury might seem to be a mirage today, but it is bound to become a fashion epidemic in India tomorrow. The early signs have been visible with both the old money and new money consumers moving up the luxury ladder in India. What seemed premium yesterday is perhaps only upscale today. The culture of luxury shopping has begun to seep through. 

AK: Which all Indian and international designers retail their brands through Kimaya?
PH: While Kimaya had descended with 26 leading designers in its portfolio, in just six years, that number has more than quadrupled to over 140 designers - Indian and European, and is still counting. The Indian array includes the likes of Tarun Tahiliani, Rohit Bal, Suneet Varma, Anamika Khanna, Rahul & Rohit Gandhi, Narendra Kumar, Pam Mehta, Manish Arora, Abraham & Thakore, Rajesh Pratap Singh, Shantanu & Nikhil, Raghavendra Rathore, Wendell Rodricks, Gauri & Nainika and many more.

Meanwhile, the international labels range from the Italian veteran Versus, Maxmara & Trussardi to R.E.D. Valentino, Michel Perry, Pinko, Kalliste and Etro. 

AK: How is the slowdown turning out to be a good opportunity for you?
PH: Ever since the slowdown has set in, it has been the best time to derive value by locking in rentals and for the next nine years, reap the benefits. And, we at Kimaya are doing the same. Making use of pricing in the current scenario, we have swung deals to our advantage with 16 Italian designers for our international brand format. We have launched some fresh concepts like video-conferencing for the first time in the world. With this facility, the client can meet the designer, based in another city online for consultation.  

This gives an opportunity to offer ego massage to our clientele. Overall our idea is to consolidate and secure the future. The weaker players will fall by the side and we have to hold onto our vision and enterprise, to emerge stronger post the slowdown.  

AK: How many Kimaya stores do you have in India and abroad? How many stores are you planning to open in 2009?
PH: Kimaya has 14 stores in India. Within a year of its launch, Kimaya became the first Indian fashion house to go international. Kimaya, Dubai was launched in 2004, with an exclusive Middle-Eastern look and feel, both to the store and the collections. Plans are afoot for similar overseas innings for the company. Going forward, Kimaya is taking the couture culture to new hotspots like Ludhiana, Hyderabad, Chandigarh, Kolkatta, Noida, Pune, Nagpur, Ahmedabad and other cities in India.

We started this year on a high note by unlocking three bigger stores averaging more than 10,000 sq ft per store, called Kimaya Avenue in New Delhi, Bengaluru and Chennai. Going forward, the aim is to open seven more stores this year.  

AK: What nuggets of wisdom would you like to share with the budding entrepreneurs?
PH: 'Fortune favours the brave.' And so, if the current economic climate bogs down, our job is to keep going and the phase will pass through with a lot of ease and lightness.

'Going against the tide' with a strong self-belief Kimaya has taken from strength to strength. Around the launch of Kimaya, the fashion industry was talking of prêt (ready to wear clothes) as the next big thing. But we chose to swim against the tide and chose to focus exclusively on couture and have reaped the dividends. 'It's The Journey, not The Destination.' Open your mind to the big picture and don't focus purely on the end result. I live and do business by a set of maxims and they give me the direction and will-power to keep going through all seasons.