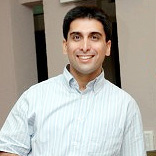 Having 43 outlets in the trendiest locations in less than seven years, Yo! China has created a unique success story, which inspires several aspiring entrepreneurs. The man behind the success, Ashish Kapur, MD at Yo! China in a chat with Franchise India Media gives a behind-the-scenes account.
Shambhavi Anand (SA): What was your occupation before you started Yo! China?
Asish Kapur (AK): Before initiating Yo! China I was employed with GE Capital as an engineer. I quit my job to pursue my venture in 2003.
(SA): Where did you draw the inspiration from to embark on the food business?
(AK): When I returned to India after quitting the job, I observed that initially the people were content with the local food. However, later brands like Mc Donald's started entering India and gained popularity as well. This motivated me to give India its native food brand, thus I came up with Yo! China.
(SA): How did you zero in on the Chinese food?
(AK): After making up my mind to establish my own venture I spent almost an entire year researching on my product and market. During the course, I met a lot of people, surveyed the market, arranged for funds and tried to figure out what would fit into my lifestyle, after all entrepreneurship is not just a profession but a lifestyle.
We obtained the insight, after an intensive research, that Chinese is the most preferred choice of youngsters and is the second most ordered food in India. Also, I wanted to offer a food that people, generally, don't cook at home.
Chinese is also a category of food wherein innovation can be done, for example American Chopsuey. Something like this is neither available in America nor in China. Dimsum is another such dish.
(SA): Where did you get the funds from?
(AK): My first outlet was funded by three angel investors.
(SA): What kind of roadblocks did you face?
(AK): The two major roadblocks that I faced were choosing the right team and sizing up.
To form a team you need people who are as passionate about your business as you are. You have to induce the passion in them. It's not always you who interacts with the customers but your staff. So you need to have a dedicated staff onboard for business- development. The second most difficult thing was sizing up the opportunity. It is one thing to start a business but totally another to scale it up.
(SA): What should the entrepreneurs aspiring to step in the food industry keep in mind?
(AK): Conduct a good research before stepping into the industry. Study the market and your customers well. Recruit the efficient people. Unless your team shares the same passion as you it will be very difficult for the business to grow.