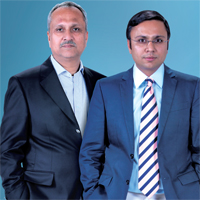 From a carpet exporter in 1978 to the owner of Rs 1,300-crore business empire, Bhartiya Group's Snehdeep Aggarwal claims to be India's largest leather exporter for more than a decade. Joined by his son, Arjun Aggarwal who heads the real estate vertical, the father-son duo is aiming for attaining the top position in the Indian fashion and real estate market.
Bhartiya Group, started way back in 1978, has its genesis in just Rs 5,000, which Snehdeep Aggarwal had borrowed from his father to start business of exporting carpets to Germany. Nine years later, Aggarwal forayed into the business of exporting leather bags and accessories. Today, Bhartiya Group exports to more than 60 global brands.
Starting Up
Aggarwal wasn't the first generation entrepreneur. His father was into traditional family business of trading dry fruits and spices. Despite having the choice to join a settled family business, the economics post-graduate Aggarwal aspired to do something that needed more of his intellectual capability. He says, "There are two things in a family business. First is the value system, which the second or third generation carries from the previous one. Second is the entrepreneurial urge to create something that will challenge you. In my case, there was nothing that I could add to my family business, so I thought of challenging myself and doing something new and big."
Witnessing Growth
Despite having huge demand for carpets in Germany, it wasn't easy for Aggarwal to push his business up. "Determined to make it work, I wrote to many traders present in Germany to seek orders for my carpets. Moreover in 1978, I went to Germany to meet them and luckily one of the traders to whom I had written earlier helped me fetch an order because of the excellent quality of my carpets worth Deutsche Mark 7,000 (Rs 28,000), the then value of German currency," said Snehdeep Aggarwal. Henceforth, Aggarwal saw consistent orders coming in for his carpets and achieved a mammoth turnover of Rs 15 lakh within a year itself. Since then, there has been no looking back for him. Bhartiya Group has a design studio and a distribution firm in Milan for its fashion vertical, and the firm retails its products under the brand name Ultimate.
New Blood
In 2002, the company saw a generational shift when Snehdeep Aggarwal's son Arjun Aggarwal stepped in. Snehdeep Aggarwal fondly calls his son a "new world". After completing his MBA from Imperial College, London, Arjun joined the fashion vertical, learning the ropes of the business and worked for a year and a half before giving in to his love for food. It was obvious for him and his father that he would join family business.
"I started with a new start-up where there was no senior management at that time. I wanted to get into real estate to build a 2-acre food and beverage mall as I love food and I found there was no place in Bangalore where people can enjoy good food of different varieties in one location. But my father suggested of building an integrated township (125 acre Bhartiya City) similar to Manhattan in New York City instead of a small mall," says Arjun, MD, Bhartiya Urban, and Director, Bhartiya Group.
Learning From Each Other
Ever since growing up, Arjun claims that all of his learnings have come from his father. On the other hand, Aggarwal boasts of his son's ability to think out of the box. "He thinks out of the box and has the ability to step away from the traditional thoughts. For instance, we were doing a master planning exercise for Bhartiya City, where architects were stuck up in a plan for which Arjun eventually gave a brilliant way out. A large part of the city centre in the Bhartiya City is actually Arjun's idea," shares Aggarwal.
"One of the key learnings, I had from him was to follow up on what you are doing. Unless you follow up and then you follow up your own follow up, things do not get done," says Arjun.
Going Forward
The company has plans to continue focus on its infrastructure and real estate vertical under Arjun's leadership. Currently, it wants to develop five cities in South India similar to Bhartiya City in Bangalore.
The company expects the city to give them the asset base of around $5 billion and is aggressively eyeing expansion of the real estate vertical. Moreover, Bhartiya Group is also creating a division for mass housing projects that will be run by a separate management team.