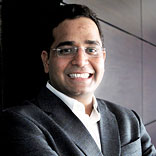 At 14 he completed high school; at19 he became an engineer; and at 21 he pioneered the revenue sharing model of business. Vijay Shekhar Sharma, Founder and Managing Director, One97 Communications (P) Ltd started an Internet company when many hadn't even seen a computer in the country and envisioned the future of telecom when it was just budding. The foresighted entrepreneur shares his views about entrepreneurship with the Franchise India Media.  
Shambhavi Anand (SA): You are considered to be one of the youngest engineers in the country. Tell us more about it.
Vijay Shekhar Sharma (VSS): I completed high school from Aligarh at 14. After that I wanted to become an engineer but was underage for that. So I took a year's break but still was underage for admission in one of the engineering colleges. Luckily, I came across a publication where I read that Delhi University has a system were if the Vice-Chancellor feels that a candidate is outstanding and approves of the candidate's admission one can get selected even on being underage. I scored well and may be the chancellor thought I was outstanding and I got through to the DCE. I passed out of the engineering college at 19.
SA: Tell us about your first entrepreneurial venture?
VSS: In 1997, when I was in the second year at college, with the help of a few of my friends, I raised funding from a VC in the US. The business was a search site Indiasite.net which focused on India. It was basically about SEO(full form) and website development. It was ranked number one in 1996-97 at various websites. We later sold the site to India Today and the company to Lotus Management LLC.
SA: Why did you sell the company?
VSS: It was good fun to sell a company at 21. Moreover, I saw opportunity in telecom.
SA: What was your family's take on you becoming an entrepreneur?
VSS: I come from a background where everybody believes in studying hard and getting a good job after that. My father is a teacher. I was also expected to take up a job after my studies were over. I did take up a job for sometime but finally entrepreneurship was my calling. Entrepreneurship was not even in fashion then (laughs).At one point of time my father got so worried that he thought I would never get married. Parents always want to choose a secure path for their children.
SA: What led to the conception of One97?
VSS: When I was running my first venture, I realised that there was a lot of scope in telecom. Then I sold my Internet company and turned to telecom because the Internet was perceived as a saturated sector and was getting crowded. Also, there was money in telecom even for three lines of content, while in the Internet space, there was a monetisation gap. The business model in telecom was superior, in spite of the lesser number of cell phones in those days.
SA: How difficult was it to convince your first few partners regarding your services?
VSS: Initially, we faced a lot of rejection. Companies which we contacted told us that they do not buy from start-ups. But then we told them we would work for free. We offered them a revenue sharing model. Incidentally, we were the pioneers of the revenue sharing model. Today it has become one of the most followed models for business.
SA: How did you fund your company and what were the challenges you faced while funding?
VSS: We raised private equity funding from SAIF Partners, Intel Capital and Silicon Valley Bank in two rounds only in 2007. Prior to that, we were managing on our own.
SA: What were the first and the subsequent milestones in your entrepreneurial journey?
VSS: My first milestone was hitting the business model right. Customers' money is the best source of funds. So you must offer what customers will pay for.
Second milestone was when the cash flow became positive.
And the third milestone was when I got my second and the next customer.
SA: What does being an entrepreneur mean to you?
VSS: Entrepreneurship is piloting a plane, which has no GPS. You fly wherever you feel like, even when there is no fuel. On one hand it is as complicated as this and on the other it is as simple as cycling. But the best part is it opens up your personality. You are no more just a sales person or an engineer. Multitasking and multi skills are required. You do everything when you are entrepreneur. And sometimes you do things that nobody else wants to do.